As part of Laurie Baker's Birth Centenary Exhibition, Thannal have attempted to reach common man through portraying different dimensions in which we try to spread awareness about Natural Buildings. Go through this brief compilation of the journey of Thannal in the past seven years to know about us more. This can also serve as an introduction of us (before a conversation with us) and the work we do, which can always give you a better idea of how you can be a part of Natural Building Movement in India and start to trace your own roots of indigenous shelter making.
Thannal means 'shade'. Shade for everyone who wants a natural shelter for themselves. Thannal aims to spread awareness about Natural Buildings and sustainable living with Minimal Resource consumption. It was founded by natural building architect, Biju Bhaskar and his wife Sindhu Bhaskar in 2011 and is based in Tiruvannamalai, Tamil Nadu.
Values
Biju Bhaskar has derived the values of Thannal from his own learnings from Sri Ramana Maharshi. Thannal believes a silent-self practice in Architecture, without disturbing the Nature by depending on huge quantity of resources and energy. Thannal intends to create less noise by being vocal about sustainability but to follow and show others a path of living in harmony with nature. We learn from nature and provide learning opportunities for everyone interested in natural buildings.
Thannal believes in Indian way of Learning. Indigenous knowledge in shelter making, which was practiced in India from the Vedic ages is what we explore and examine. A third of the world's population still lives in building constructed of Earth.
Earlier, houses were made of mud and other materials procured from the vicinity. A Lime kiln supplied to the requirements of an entire village then but now truckloads of cement (often transported from long distances) are required for a single house. So how much genuine a 'sustainable' building is, if it uses truckloads of manufactured materials?
When was Cement introduced in India? Were there no houses before that? After the absurd categorization of houses as 'kuchha' and 'pucca', today people want a 'pucca' cement house, but rarely think about the living conditions inside, which are uncomfortable compared to traditional houses built in natural materials. Apart from being energy intensive, costly, they also use materials which contain chemicals harmful to human body.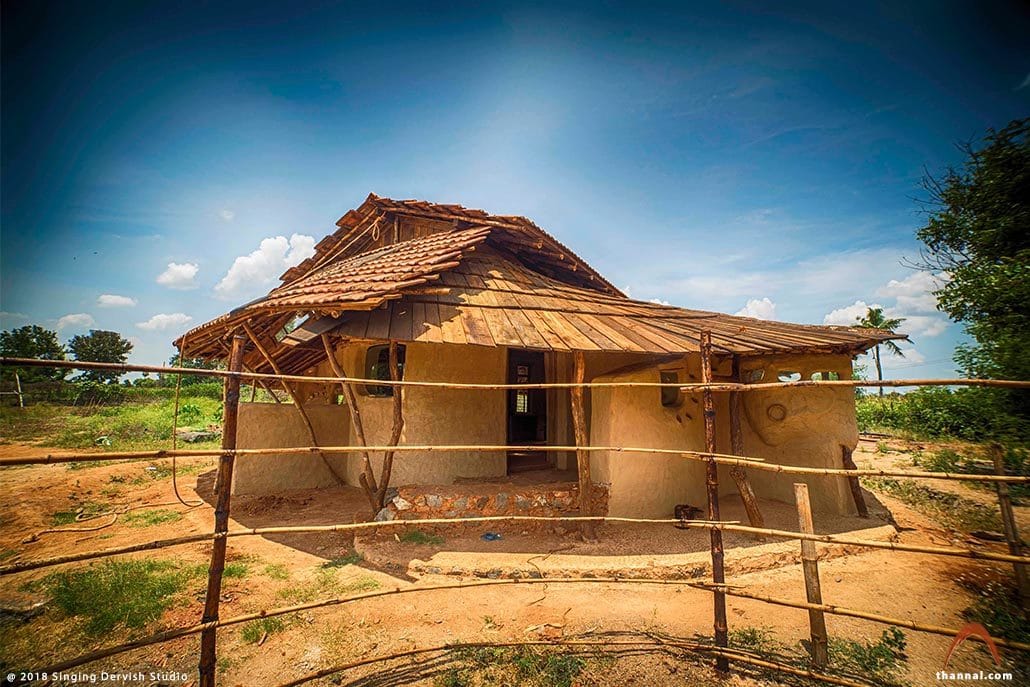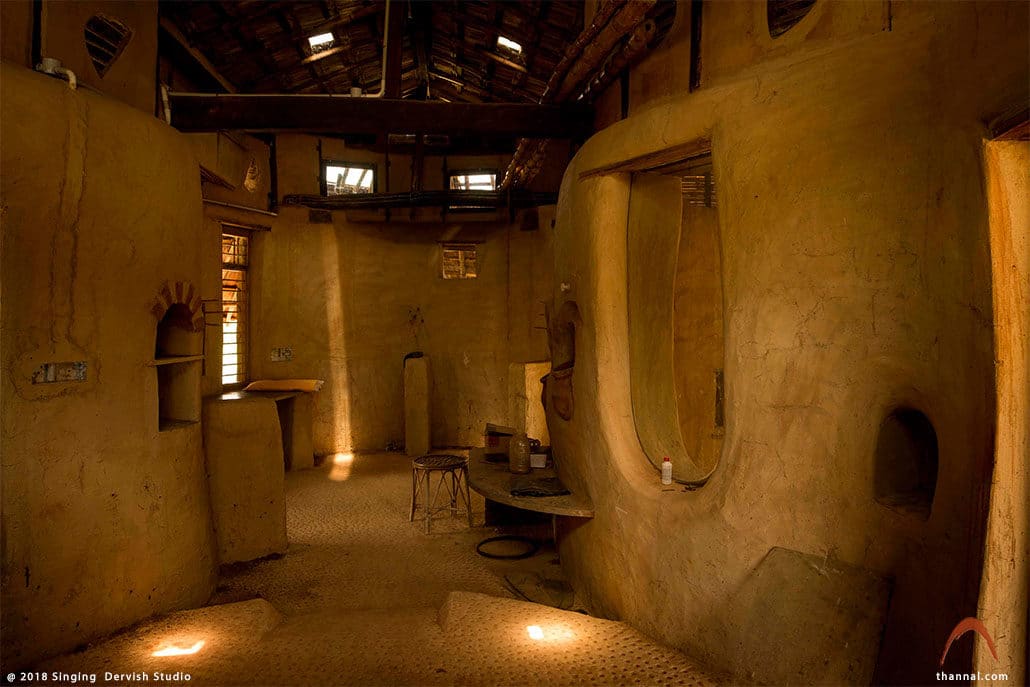 We believe in empowering common man to go ahead with an Owner's Build in a way less hurting the nature. This encourages involvement of people in their own shelter building and reducing the exclusivity on designed homes only for the ones who can afford designers.
We also try to spread the idea through Natural Free Homes for villages, funded by students to create more opportunities for learning through practice.
Thannal is a Natural Building Awareness group, not a Construction group.
Biju Bhaskar
Founder
His roots are from a traditional farmer's family. After leaving his studies unfinished from a conventional architecture college, he travelled extensively in different parts of Indian villages. In his journey he met and worked with master sculptors, painters, spiritual teachers and photographers to uplift his knowledge in making shelters. In 2009 he was granted a degree in architecture from Indian Institute of Architecture. Same year he submitted himself to nature and started living under the foot hills of Arunachala. He founded Thannal Hand Sculpted Homes in 2011 and continuing his journey in self-study and earthen shelter.
Sindhu Bhaskar
Co-Founder
Initially worked with organic clothing, plant and animal derivatives, Co-Founded Thannal with Biju in 2011. She is totally involved with most of the activities in Thannal including soft furnishing, handmade accessories, and continuing her experiments in natural finishes with plants & herbs. She is from a village near Western Ghats, north part of Kerala and has been living in Tiruvannamalai since 2010.
Adhya Vriksha & Bodhi Vriksha
Both Vriksha's are keen helpers in making of Thannal Homes. Adhya takes care of the organic farming within the campus. With friends in nearby alternative school they help the mountain by planting seeds and help Thannal by keeping mud.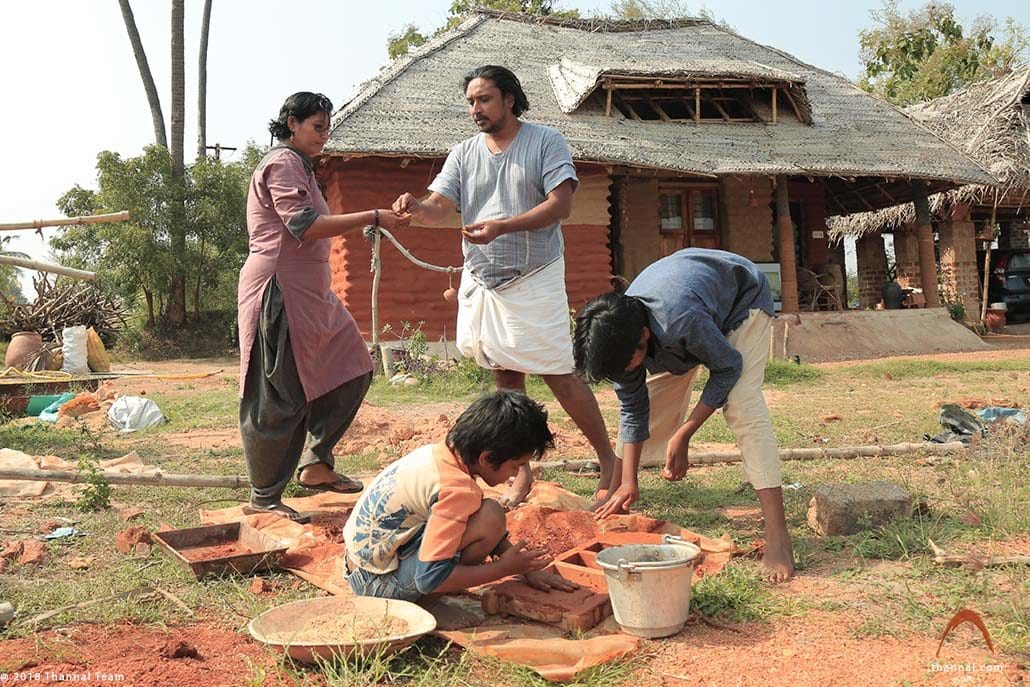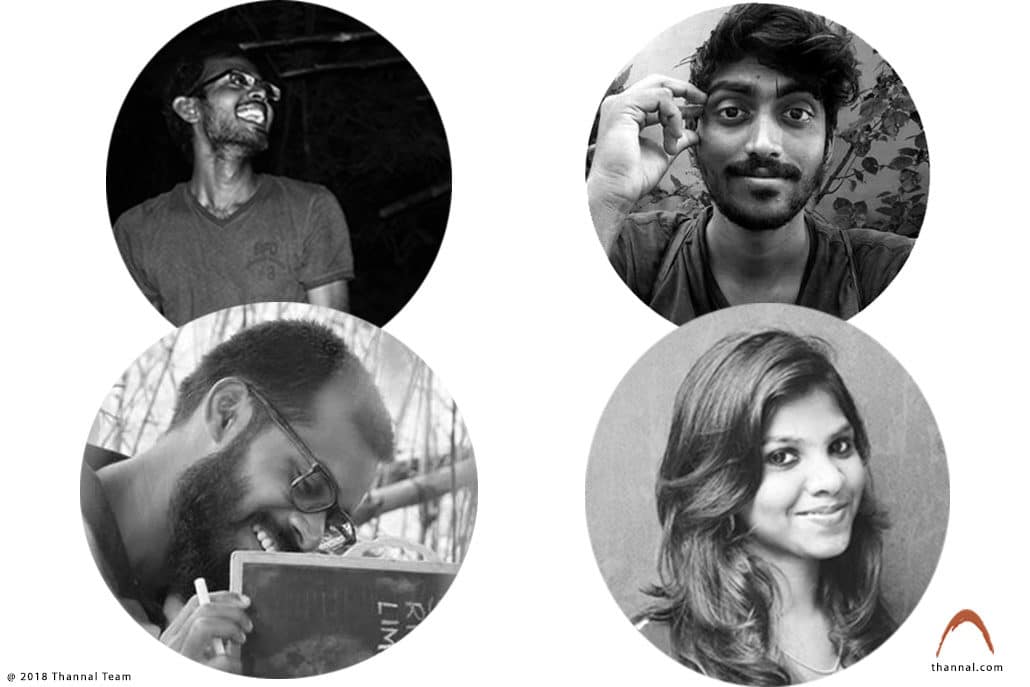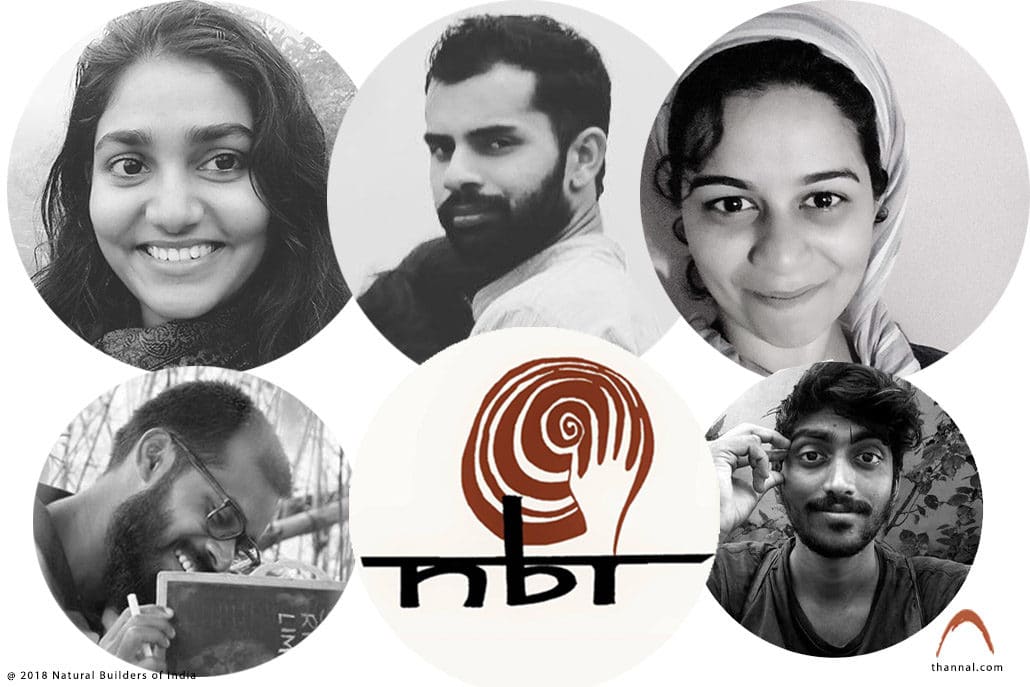 Sriraman Gouthaman
Admin & Seed collector
After doing his studies in Bioinformatics and researches as a computer scientist he took a decision in 2014 to ditch city life and start living under the foot hills of Arunachala. After many discussions with Biju Bhaskar he slowly started analysing and organising Thannal.
Presently working in an area with Biju for self-sustaining solution for Thannal and other Thannalates by doing Earth Station, a platform where natural builders can work as an artist rather than an architect for clients. Other areas of his contribution are Thannal Natural Building School and Alternative renewable energy solutions.
Sundar Raj Ganesh
Apprentice
After completing his graduation in Architecture in 2016, he joined Thannal and have been working hard to be the aspiring Natural Builder he wants to be one day.
Akhil Shajan
Junior Apprentice
Joined Thannal soon after attending one of the workshops after graduation in architecture. He concentrates in documentation, writing and research along with learning Natural Building.
Shalini Nadar
Intern
Currently pursuing Architecture from Mumbai University, she has been a part of Thannal from four months. She is taking her baby steps towards being a Natural Builder from the young days of college.
Natural Builders of India (NBI)
Natural Builders of India (NBI) is a platform started by disciples of Thannal to nurture natural builders in India. It aims to acknowledge the diversity of indigenous methods found around the country by having true examples of Natural Buildings in various geographical contexts, through growing natural builders around India.
Research and Documentation of indigenous techniques from old houses and artisans is where we learn from about natural buildings. Most of such techniques are in the verge of getting wiped off in the fast pace of development. Thannal intends to preserve and bring back such methods to present.
Thannal School of Natural Building
At Thannal, we are constantly in the process of experimenting, studying, documenting and exploring the possibilities of natural materials along with practicing techniques of natural building, both old and new. Thannal wishes for all eager learners to be a part of this learning experience with us. More than learning the technicalities, it is about being in sync with the materials, to connect with nature.
Respecting an Artisan series where we portray the work of Master Masons and Revival Series of Art forms is where we in-corporate their work into our projects. This enriches learning experience of Natural Buildings from Thannal.
Gift a Natural Building & Free Homes
Revival of Natural Buildings in Indian Villages through two value based natural building projects a year. Entirely done in 'Gift Culture', without any fee with the good will of causing less harm to the nature. Free Homes are the projects funded through contributions from Thannal & volunteers, only for the people in need.
A few Accomplished Ventures
Cob Studio at Anandavanam, Tiruvannamalai.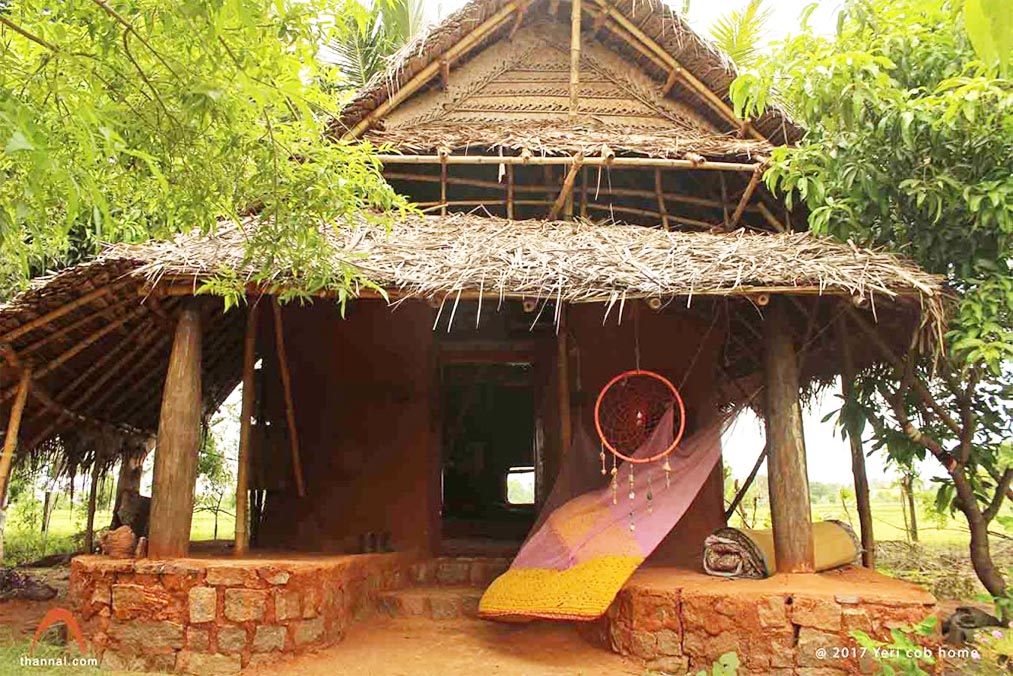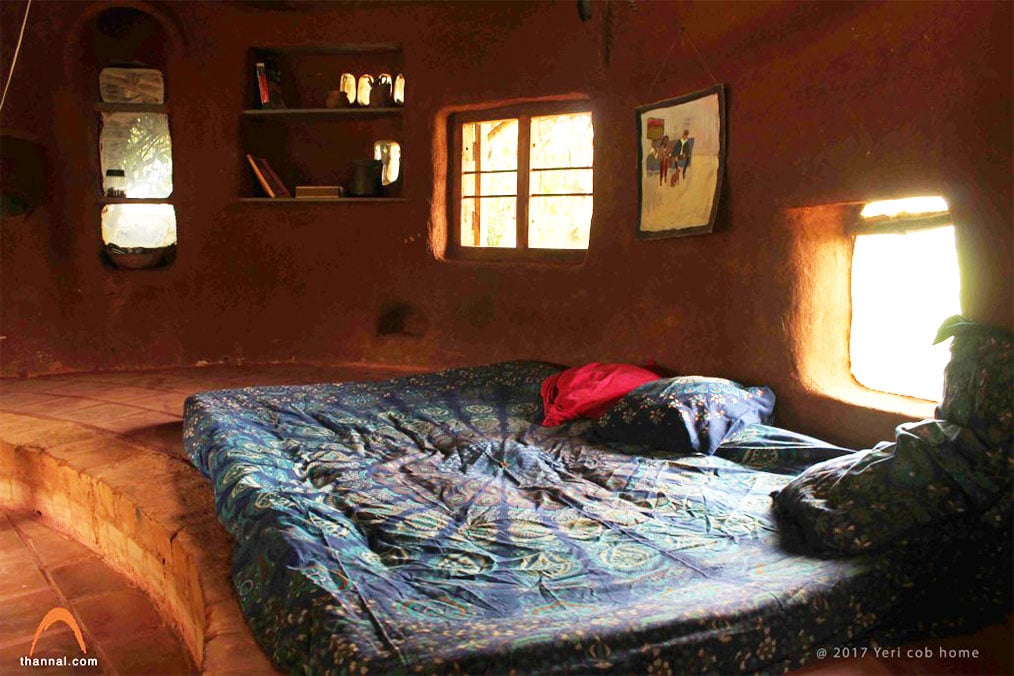 A conventional building involves an architect, builder, workers, and owner in their specific roles. What happens, when these lines are blurred and everyone comes together to work in cohesion? One such interesting concept for a natural building process at Thannal was to engage and empower learners to build a cob hut.
This rustic hut takes up an area of just 350 sq ft including a spacious loft. With a simple material palette of just lime, mud, terracotta and bamboo, a comfortable space can be created. The foundation is made of stone and lime while the walls are made of cob.
The roof structure is bamboo covered with coconut thatch, with a steep slope for a comfortable loft headroom. Storage spaces come in the form of niches, clay pots embellished with broken tiles, and shelves inbuilt in the walls. The total expense of this project is just under Rs 85,000.
Earth Bag Home, Tiruvannamalai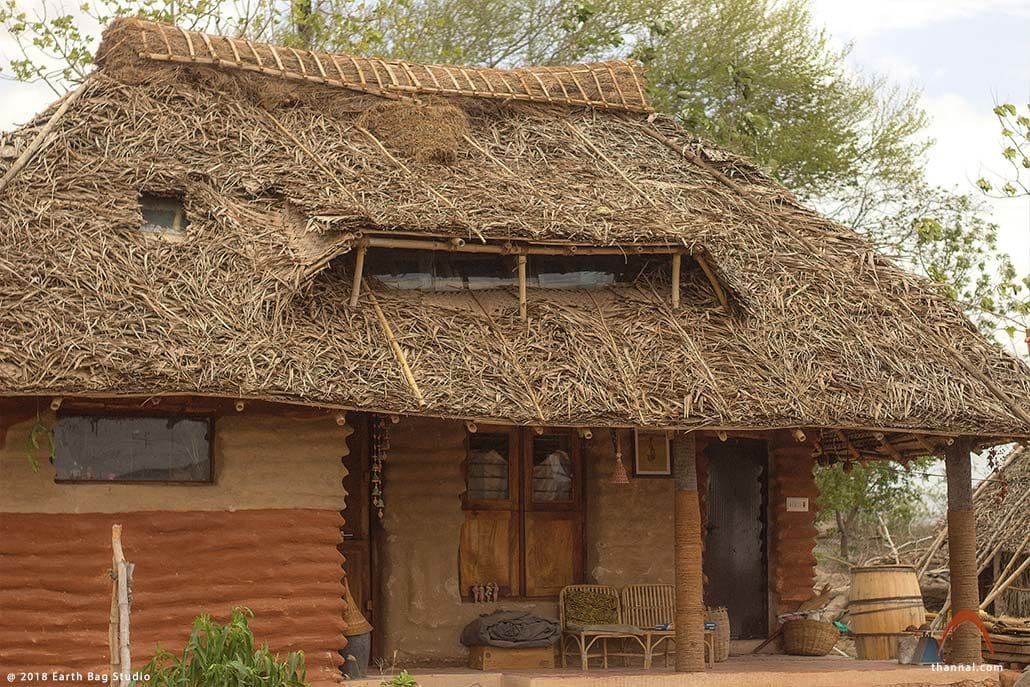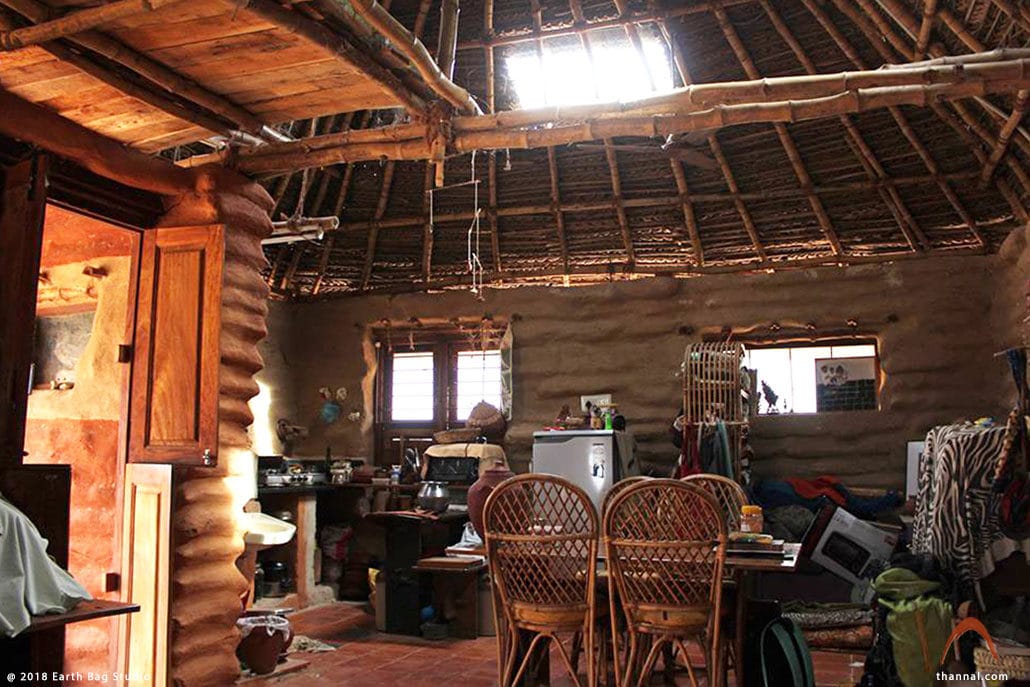 This 550 Sq Ft (52 Sq M) super adobe home completed within 45 days as an experiment with different methods in Natural Building is located in Tiruvannamalai.
Breaking all the earth bag building stereotypes, the polypropylene bags are replaced here by jute bags made from natural fibres. Around 1000 earth bags were made using site soil in less than 15 days with 2 men and 2 women. It costs less than baked bricks to do this 11/2 feet thick walls.
We used mud plaster, comprised of mortar paste mixes made out of Prickly pear juice, aloe-vera, tamarind seed, Haritaki, sticky rice juice, tapioca starch etc. The ambiance inside is enhanced by terracotta tile flooring.
The roof is made of coconut thatch with bamboo structure. The attic and the lemon grass above the existing thatch is a story to be continued.
Music
Song Link: Adobe Girl: Lullaby of the soil
Thannal initiated Music project inspired from the challenges of budding young Natural Builders. Shot in villages in the foot of Arunachala, Architecture is articulated to Music that masses can correlate to the notion of Natural Building and its significance in contemporary scenario.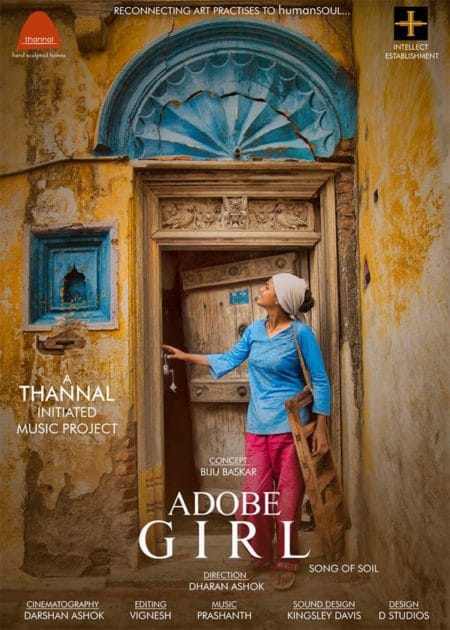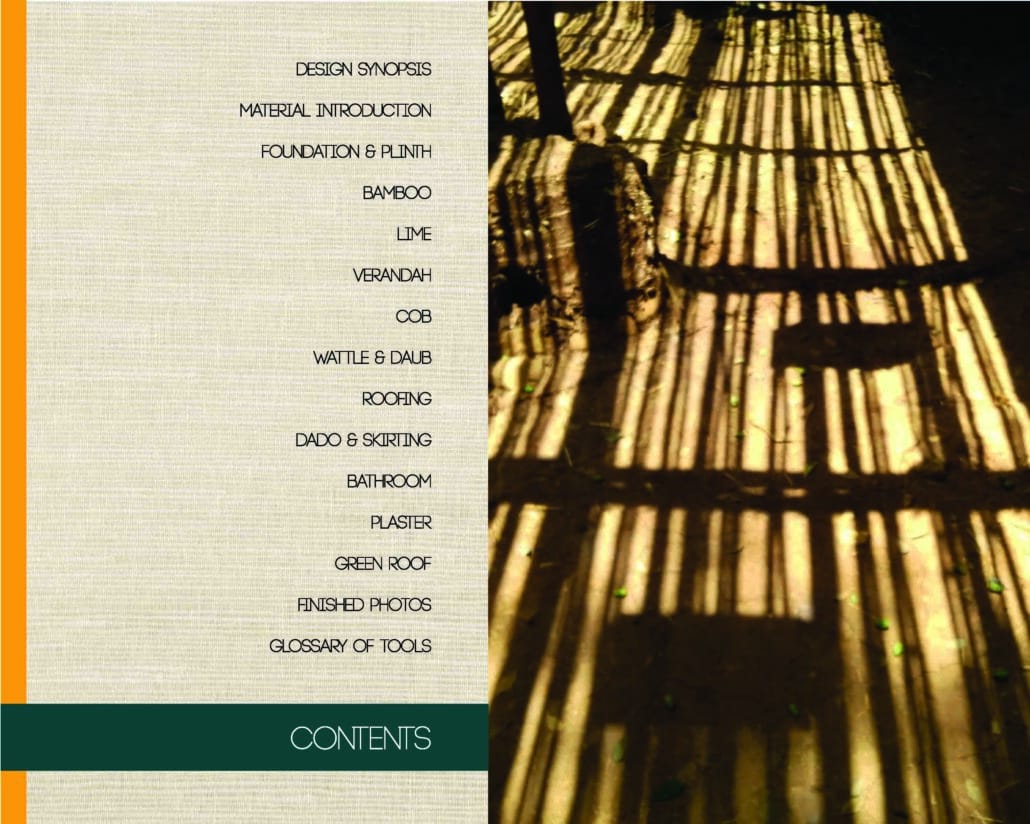 BOOKS
Book Link: Weaving Walls: A wattle & daub cottage
A Thannal's Project Documentation of Cottage in Sukrushi organic farm in Nelamangala, Bengaluru.
A hand-book on how to do a Wattle and Daub wall which is perhaps the third book from India in building with Mud & Natural Materials, after Laurie Baker ji's Mud and KS Jagdish ji's Building with Stabilized Mud. We believe the future of Mud buildings is in this technique as it uses minimum resources and provides with maximum flexibility.
Link to – Upcoming work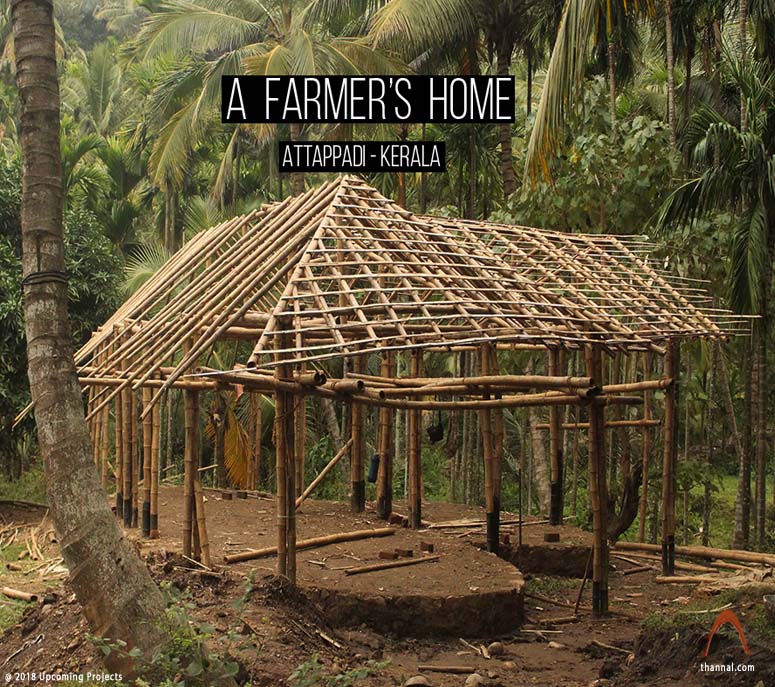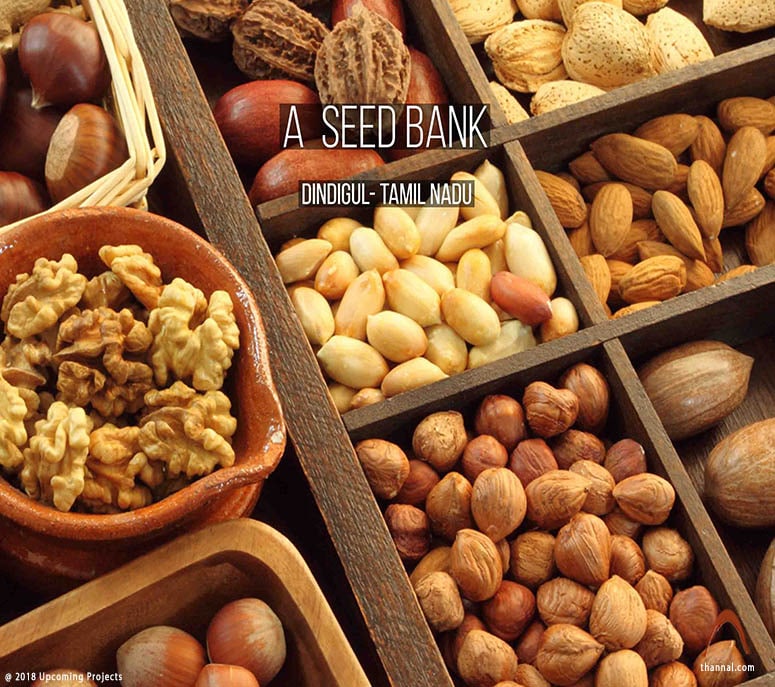 We try to explore architecture through different forms like stories, music and so on. This is one of our first attempt to express our upcoming beloved Natural Buildings through short stories in Malayalam. We have purposefully attempted to keep the stories in the local language so that more people can be made aware of Natural Buildings.
Short stories written by Nithanth L Raj, Calicut.
Research, Documentation and Experiments
Research and Documentation of indigenous techniques is the primary source of knowledge for Thannal. Many methods are in the verge of getting wiped out as people who executed such styles belong to the elder generation, it is essential to record them properly before they plunge into history. Application of the same is done on our projects to demonstrate and provide scope for scientific analysis for the present moment. This can help in preserving knowledge systematically and made available for the future generations.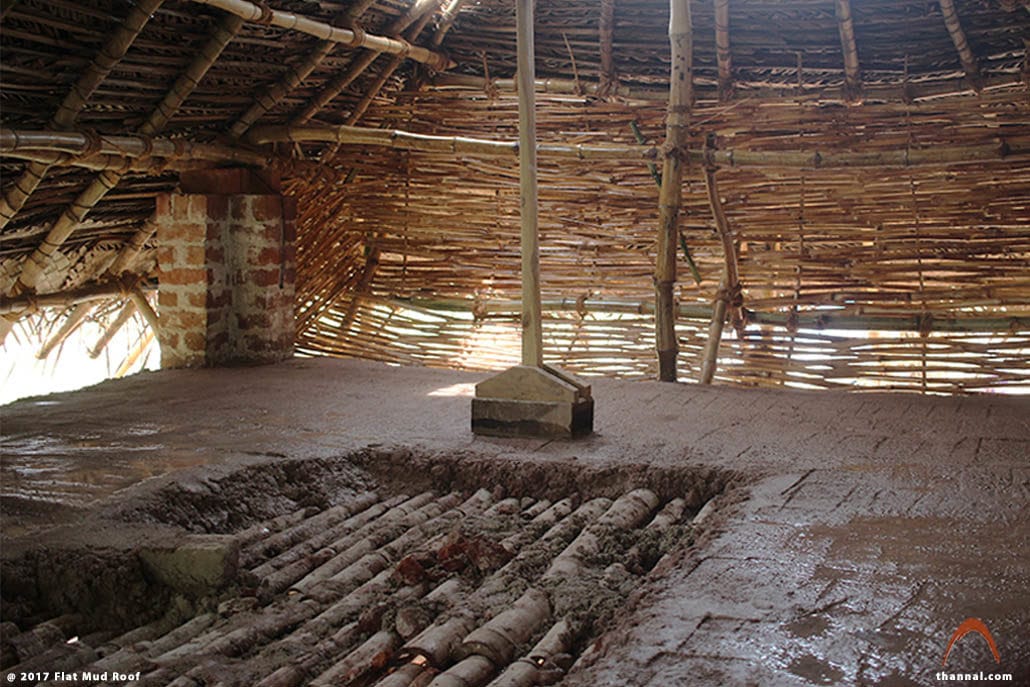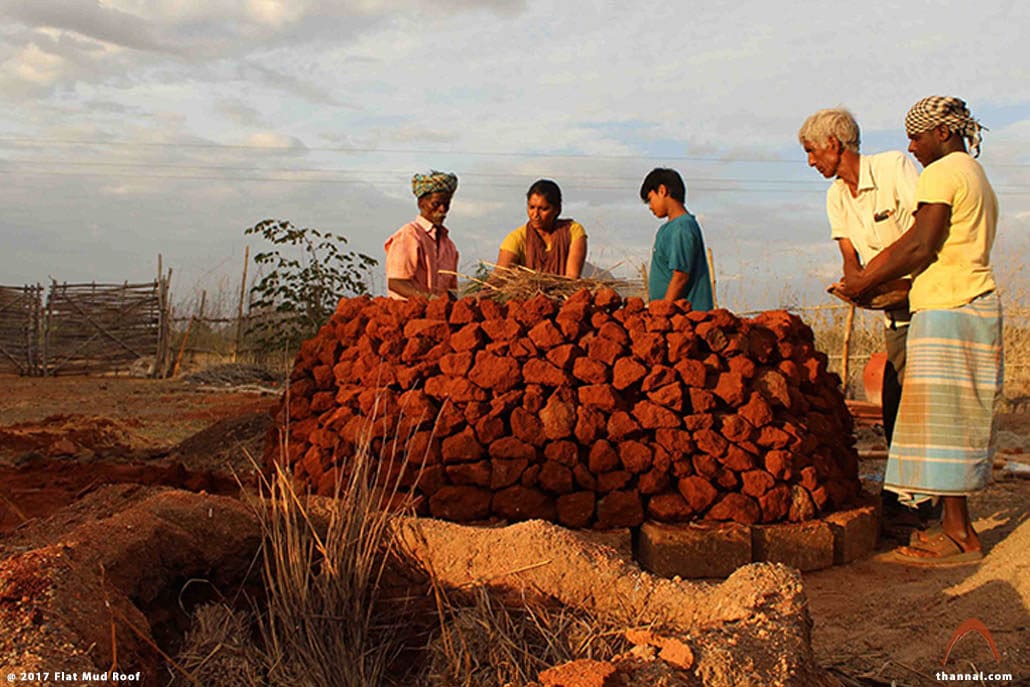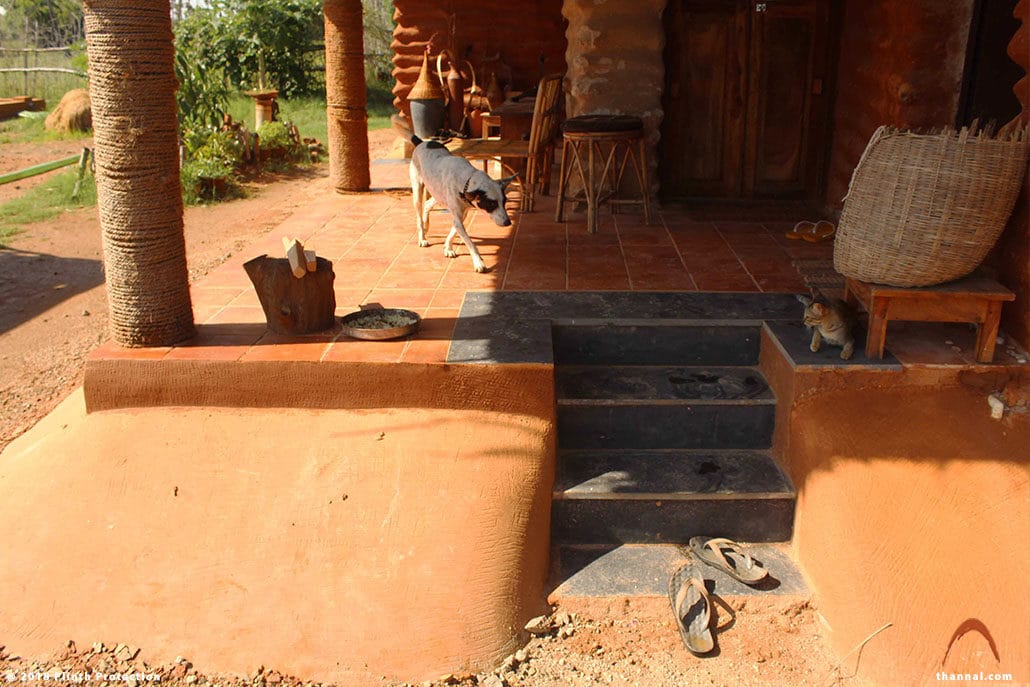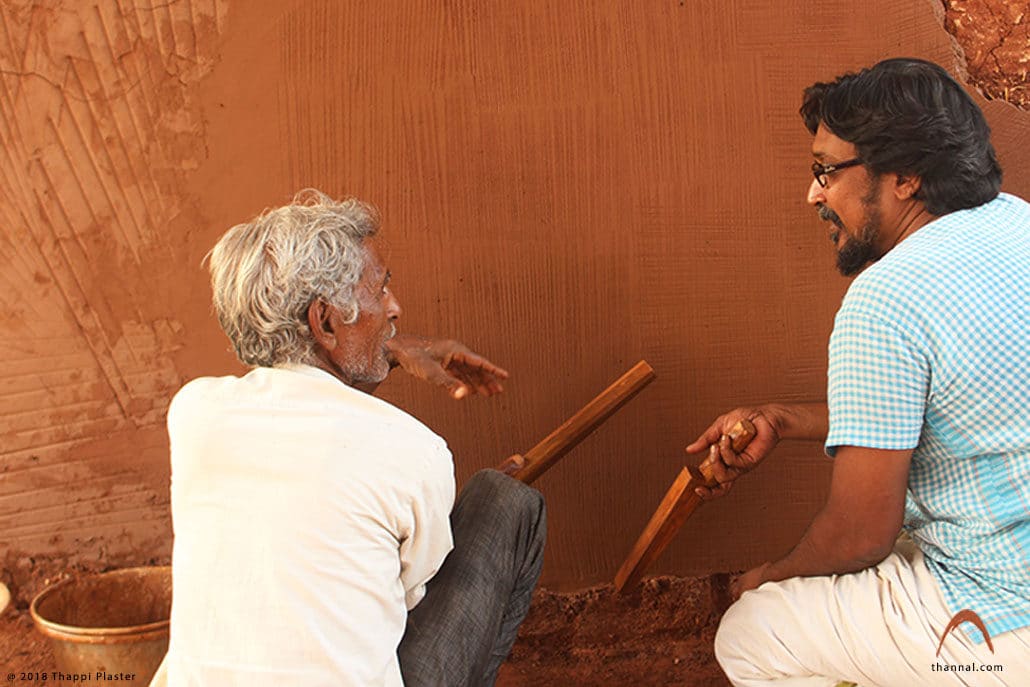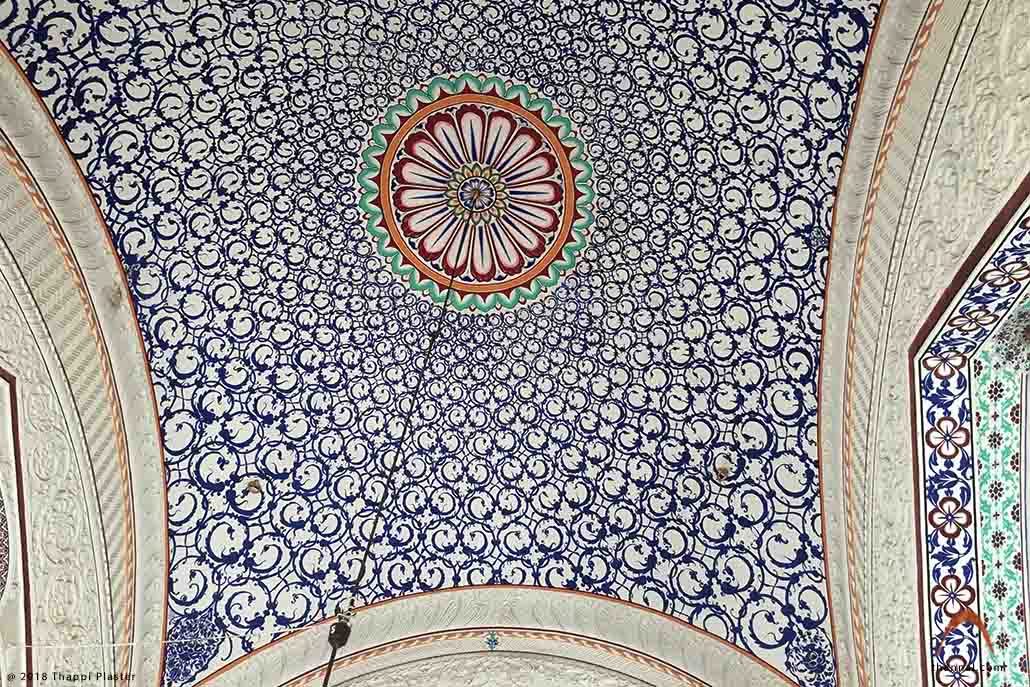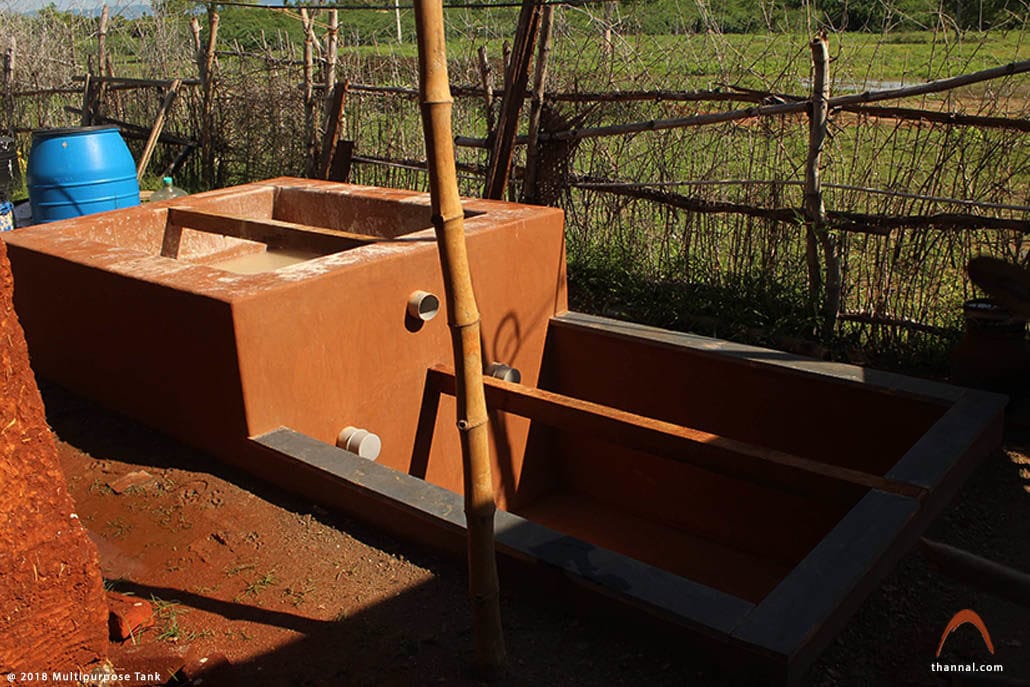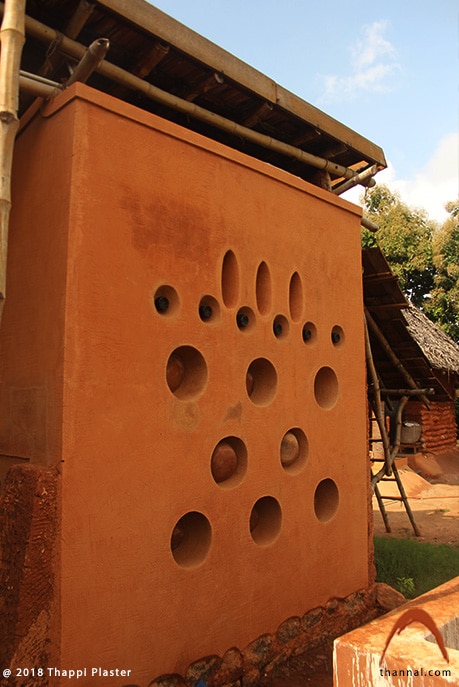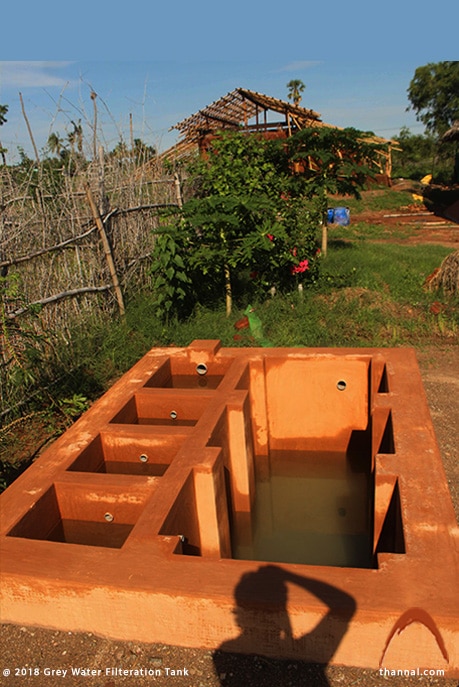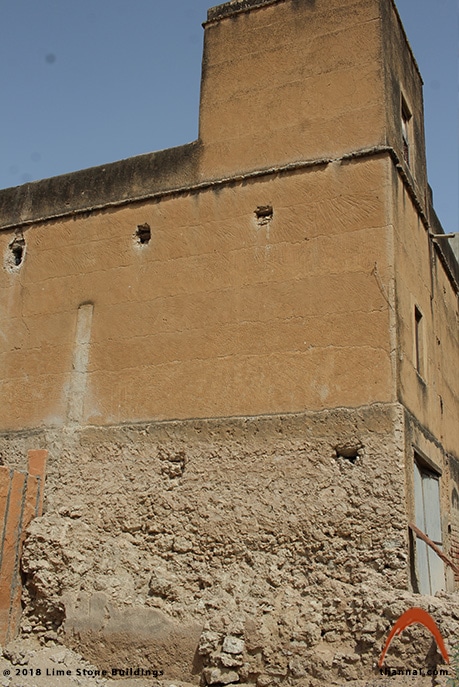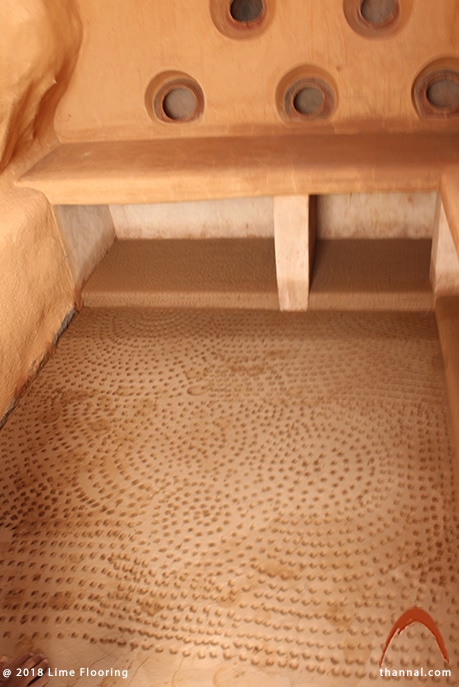 Thannal Natural Building School
An initiative for Rural students with basic education and Learned Persons from various disciplines to start their journey in Natural Buildings. We believe anyone can be a Natural Builder with a depth in hands-on practice and good know-how about properties of various materials. Various self-learning systems under this school are:
Students of Natural Buildings who wish to be associated with Thannal for a long time, understanding the values we believe in. After getting themselves accustomed to basics of Natural Buildings, they continue at Thannal as project co-ordinators.
Internship
Architecture Students who wish to learn the Natural Methods of building from a young age while in college can pursue internship at Thannal. We favour long internships as it is a deep-rooted study and candidates take time to de-learn and then learn.
For everyone who believes in learning through offering their services on our humble projects. A barter system of Giving services to help a poor man build his home in a village and Receiving indigenous knowledge on building natural homes.
Workshops are the platforms where people understand the significance of Natural Buildings through sensing various materials used, how they are prepared, hands-on experience on indigenous techniques, observe experimentations and completed projects and know about pioneer natural builders from around the world.