Learn about our Earth hand building Team
"Earth provides enough to satisfy every man's needs, but not every man's greed" – Gandhi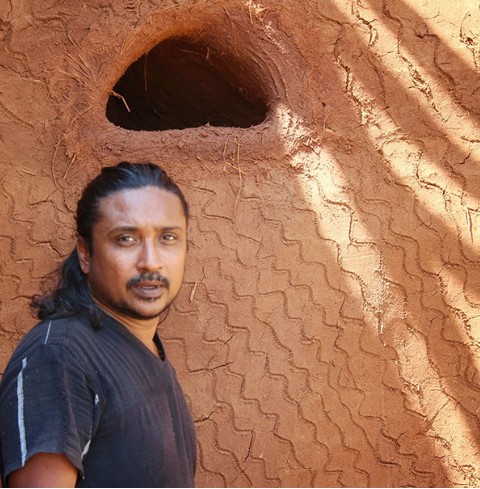 Founder
His roots were from a traditional farmer's family. He stopped his studies at a conventional architecture college and travelled extensively in different parts of Indian villages. After quitting his college one and a half years working under a tribal master making driftwood sculptures in Khajuraho. In his journey, he met and worked with master sculptors, painters, spiritual teachers, and photographers to uplift his knowledge in making shelters. In 2009 he was granted a degree in architecture from the Indian Institute of Architecture. The same year he submitted himself to nature and started living under the foothills of Arunachala. He founded Thannal Natural Homes in 2011 and continues his journey in self-study and earthen shelter. Know more about Biju Bhaskar here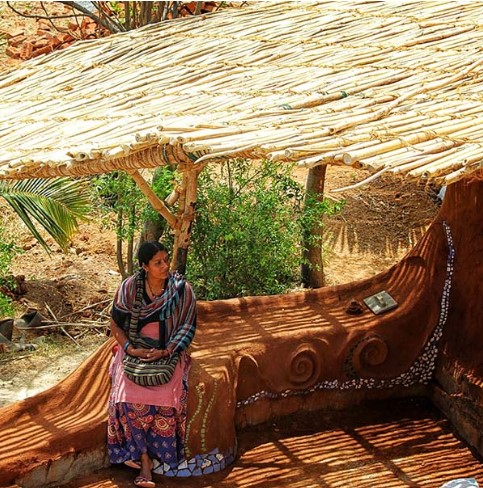 Co-Founder
Initially worked with organic clothing, plants and animals together Co-Founding Thannal Hand Sculpted Home with Biju in 2011. She is totally involved with most of the activities in Thannal including soft furnishing, handmade accessories, plants & herbs and continuing her experiments in natural finishes. She is from a village near Western Ghats, north part of Kerala and has been living in Tiruvannamalai since 2009.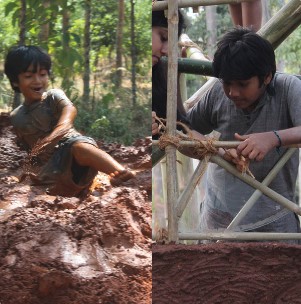 Little coordinators
Vriksha means 'Tree' and Adhya means 'First'. Both Vriksha's are keen helpers in making of Thannal Homes. With friends in nearby alternative school they help the mountain by planting seeds and help Thannal by keeping mud.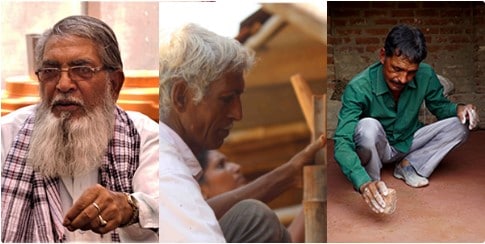 Dawood Ibrahim Muwal, Abdul Razak Muwal & Liyakat Muwal
Master masons in Lime & Trainer
Being a mason for decades in heritage conservation in Mumbai, Dawood ji later associated with Thannal in 2016. With him, we revived the Thappi-Lohi Plaster after series of experiments on-site like the underground grey water tank & lime tank. His brothers, Razak ji and Liyakat ji have co-ordinated the Revival Workshop in Thappi-Lohi Plaster in Sardarshahar, Rajasthan. They look forward to bring back the dying craftsmanship back into practice, by training more people.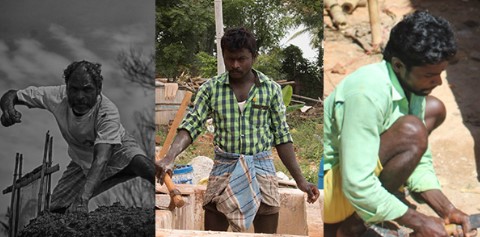 Munuswamy Anna, Arunasalam Anna & Taniasalam Anna
Local Farmers
Three brothers from a farming family, they are active in our natural buildings for more than two years, in Earth-Bag home, Dervish Studio and Learning Center. They have also assisted numerous natural building workshops on the campus. They are also part of many experiments done on-site with master masons.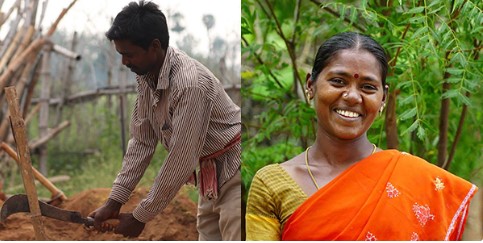 Local Farmers
Seth Anna has been with Thannal for many years now, handling various building activities and farming within the campus. He is also an active farmer who is now trained in natural building techniques. He has also worked with master masons on our site.
Serena Akka assists with natural building workshops on the campus and preparing many natural building ingredients for various uses in homemaking.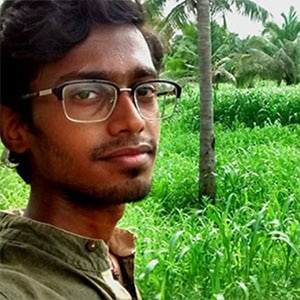 Natural Farming Consultant
After studying Art and Animation for graduation, he was influenced by Nammalwar ideologies for farming and living in a natural way. After learning to farm, he now works to promote natural farming in the villages through his work. He is coordinating the farming works within the campus and teaching our local farmers about Natural farming.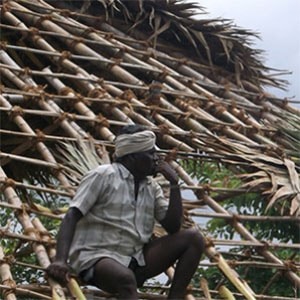 Master Roof Thatcher
A professional thatcher from a village in Tiruvannamalai. He started his carrier in thatching when he was very young. His hand has touched almost all the thatched roof of Thannal Homes. When he understood about the fading thatched shelters in south India, he started dedicating most of his time in Thannal and started experimenting with us in different types of thatch roof like Palm, Reeds, Coconut leaf etc in different dimensions
Over 50 +  hands-on training programmes were conducted and 1500+ people trained