"Grow more villages with less development and self-sufficiency" – Biju Bhaskar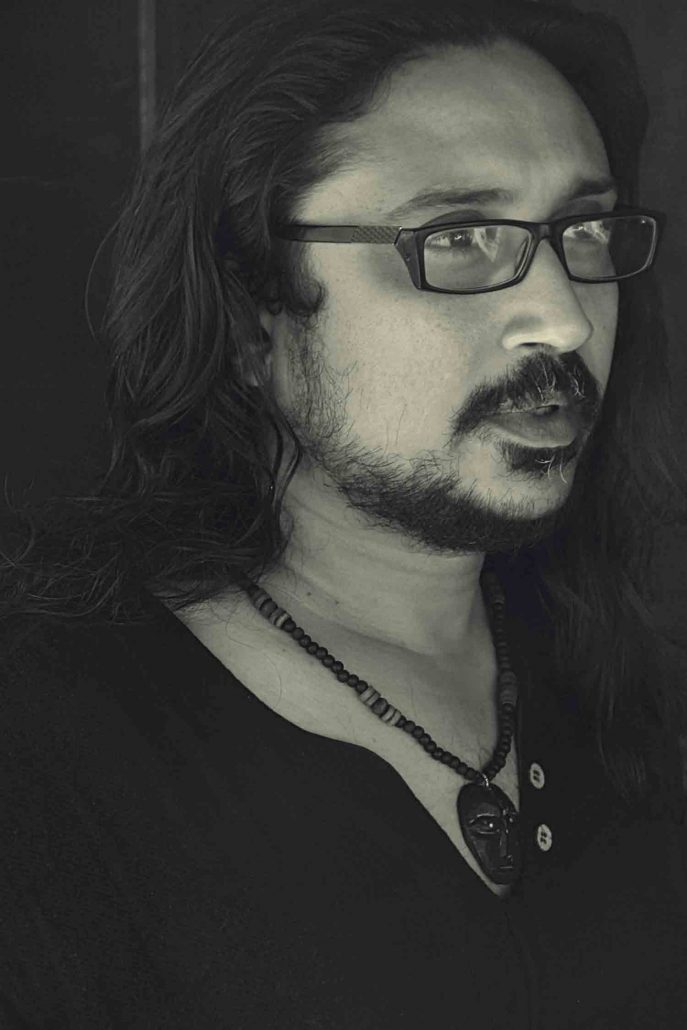 Born on 23 August 1974 in Kerala, India
Father- Dr.M.Bhaskaran
Mother- Nalini Bhaskar
Brother- Binu Bhaskar
Wife- Sindhu Bhaskar
Children- Adhya Vriksha & Bodhi Vriksha

Born in Kerala, India, from a farmer's family, he stopped his studies at a conventional architecture college and travelled extensively in different parts of Indian villages. For one and a half years he worked under a tribal master making driftwood sculptures in Khajuraho. In his journey, he met and worked with master sculptors, painters, spiritual teachers and photographers to uplift his knowledge in making shelters. In 2009 he was granted a degree in architecture from the Indian Institute of Architecture. During this period, he reversed migrated to a village in Tiruvannamalai, under the foothills of Arunachala. He founded Thannal Natural Homes in 2011, a Natural building awareness group and is still continuing his inner-journey in the self-study and earthen shelter movement in India. In the last decade, he has spent full of his time in Research & Documentation about Indian indigenous shelters, spreading awareness through taking classes, workshops and publishing articles, books and videos about Indian natural buildings. He published his first book on Indian Natural Buildings – 'Weaving Walls' in 2016. Currently continuing his journey in conserving and reviving traditional practices in India from the Thannal campus in Tiruvannamalai.

1993 – 1998 Pursuing Bachelor's degree Architecture (B. Arch) in MIT, Manipal University, Karnataka. (not completed degree)
1999 – 2000 Learning and doing Tribal sculpture with master artisan Rajendra in Khajuraho, Madhya Pradesh.
2000 – 2002 Working under Master Sculptor Valsan Koorma Kolleri, in M.S. University, Baroda.
2002 Joined Indian Institute of Architects to pursue his degree in Architecture.
2003 – 2009 Worked in conventional architecture and interiors in Kochi, Chennai & Bangalore.
2009 Granted a degree in architecture from the Indian Institute of Architecture. The same year, shifted with the family under the foothills of Arunachala in Tiruvannamalai, Tamil Nadu and started extensive Research and Documentation in Mud Architecture & revival of zero percentage cement buildings.
2011 Formed Thannal Natural Homes, a Natural Building Awareness Group in Tiruvannamalai.
2016 Authored & Published the first eBook on Indian Natural Buildings – 'Weaving Walls'.
2016 – 2019 Research in Rajasthan traditional building methods
2017 Published first Natural Building song 'Adobe Girl' to spread more awareness, followed by the second song 'Khoj', based in Rajasthan in 2018. 2017 Started Barter System in Architecture practice to reach more common people.
2018 – 2019 Organised Revival Workshops by artisans from Rajasthan on traditional building methods in Rajasthan & Tamil Nadu.
2020 Started "Natural Builders Around us" documentation and directory of designers, artists, architects, civil engineers, masons, artisans, and discover people from every walk of life who have studied with Thannal about building using natural materials.
2021 Launched India's first natural building App for Online learning tutorial video series in Tamil or English

Presently working on "Back Home: a book and video series" in four languages (English, Hindi, Malayalam & Tamil) extensive documentation on Indian traditional buildings and how they can be revived today.