Concept of Thannal started from a silent thought ………
One such interesting meeting was the one between Sree Narayana Guru and Bhagavan Ramana Maharshi at Tiruvannamalai in 1916………….
Both the sages faced each other for a moment as if their eyes were speaking to each other…………………….
Meeting of Naryana Guru and Ramana Maharshi can be read here.
Those who had the slightest taste of guru enter into a self-practice of life. They select the path that help them enter into heart of guru or maybe it's the path that select them. There are innumerable paths and practices. Some practice farming, some practice writing or translating their guru's works, some look after animal's .As they proceed their paths and practice merge into one.
Among these innumerable ways We, Thannal Hand Sculpted Homes have chosen earthen homes. While we are practicing Thannal, putting each stone to erect a house we dismantle each stone from our karma. Three excerpts from the guru -shyshya (master- disciple) communion.
Ramana Maharshi and Annamalaiswami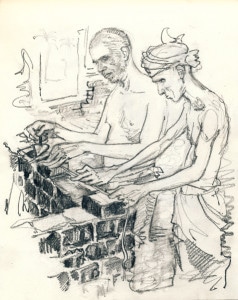 'As you built the wall,' advised Ramana Maharsi to Annamalai Swami, 'fill the space between them mud. If you mix earth and water together and compress it, it will be very strong.'
-From 'Living By The Words Of Bhagavan'- by David Godman
Nataraja Guru and Nitya Chaitanya Yathi
Me and Nataraja guru started to built a small hut in a village called Somanahalli in Bangalore . Guru has made all the plans. Two small circular rooms and a kitchen were to be build and the opening door to the kitchen was a cut out hole in the mud wall. The land in Somanahalli was mixture of mud and soil. It was used as a plaster to build the walls, when its dries up it hardens as rock. Guru showed me how to build the walls without the help of a mason. We both went to the river bank with buckets to collect stones and boulders. During that time we worked like two donkeys.
–From Autobiography of Guru Nitya Chaitanya Yathi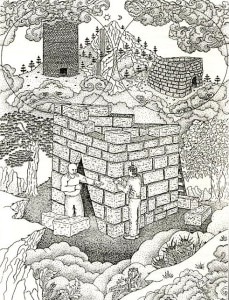 Marpa subjected Milarepa to a harsh regime of physical labor and mental discipline. The guru ordered Milarepa to build a house without any help, digging, hauling, making bricks and walls, floors and roof, finishing the house fit for occupancy. Then he was ordered to tear it down and build another. This went on successively for many years, without explanation from the outwardly harsh and gruff Marpa.
– –From 'The Life of Milarepa'
The sketch above of Narayana Guru and Ramana Maharshi is by Shashi Memuri , is an artist who studied under the guidance of Guru Nithya Chaithanya Yathi and he studied tribal art from Koraput, Orissa with the help of Integrated Rural Development of Weaker Sections in India (IRDWSI).
Annamalai and Ramana at work, building the Ashram – Drawing by Jane Adams from her famous blog  janeadamsart.wordpress.com. We can see other drawings of Ramana Maharshi if we follow her link.
Nithanth Raj helped us to write Biju Bhaskar's thoughts for "Values of Thannal". One of Nithanth's works is the Translation of the famous book of Suri Nagamma's "Letters from Sri Ramanasramam". He started visiting Guru Nithya Chaithanya Yathi when he was very young. Presently he works for Mathrubhumi Books and continuing his journey meeting many saints in sacred India.
This post is also available in: Tamil