Speaking Natural Finishes – series 4
Introduction
In the pursuit of creating something new, we often forget to sit back and reflect at ideas that have already been experimented on, and tested over time. With this deep rooted philosophy of studying and observing along with practicing natural buildings, Biju Bhaskar travels harmoniously with the surroundings, seeking true natural buildings. And ever so often in his travels, he comes across hidden treasures of homes rich in the abundance of traditional knowledge. He is always accompanied by Sindhu Akka who with her nuanced observation & intuition can work magic with her hands. Along with kids Adhya & Bodhi, this little team is always out to explore natural, sustainable ways of building and living. One such natural building that Biju was keen on documenting was Devapriyan Kanjankat's home in Kerala.
Devan Mash, as Biju lovingly addresses him, had witnessed a number of old houses with flat mud floors being demolished. To his wonder, he found a layer of leaves beneath the layer of mud, which still looked like they had freshly fallen from the tree. With this consciousness he was determined to go the traditional way and create a flat mud floor using Karingota (Niepa bark tree) leaves instead of the usual synthetic materials like tar and EPDM sheets used now-a-days as vapour barrier in earthen floors.
As a fellow natural builder, Biju Bhaskar had always wished to portray Devan Mash for this laudable attempt that very few architects would dare to make. A true, fearless natural builder, Devan Mash is probably the first architect to take up the risk of experimenting on this subject We here by hoping our documentation will help the rest of the natural building community to apply traditional knowledge in our practices without hesitation.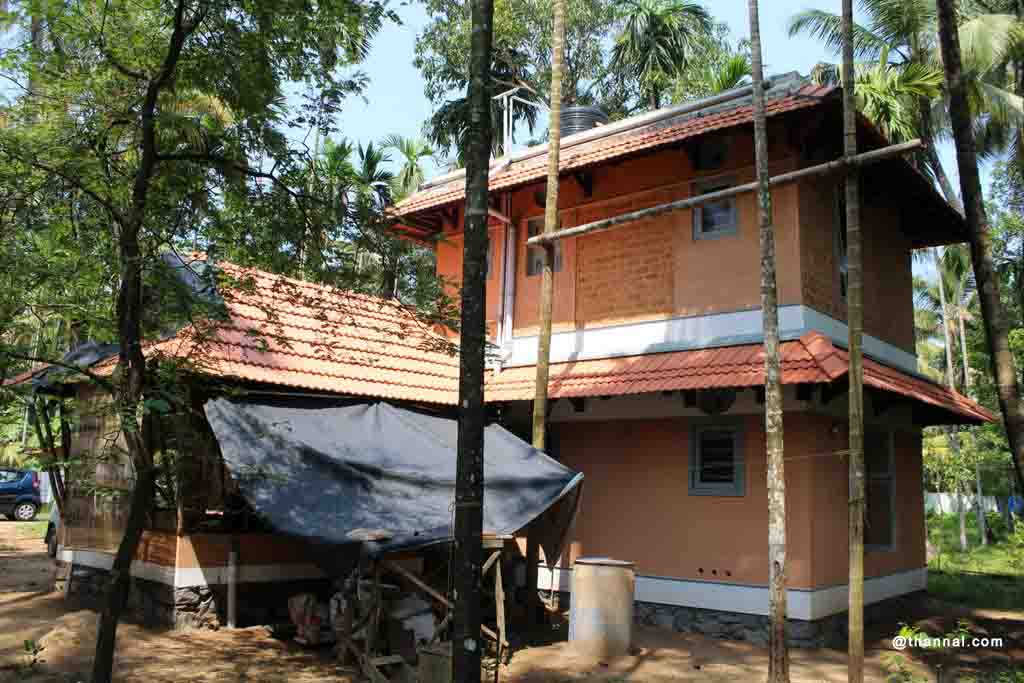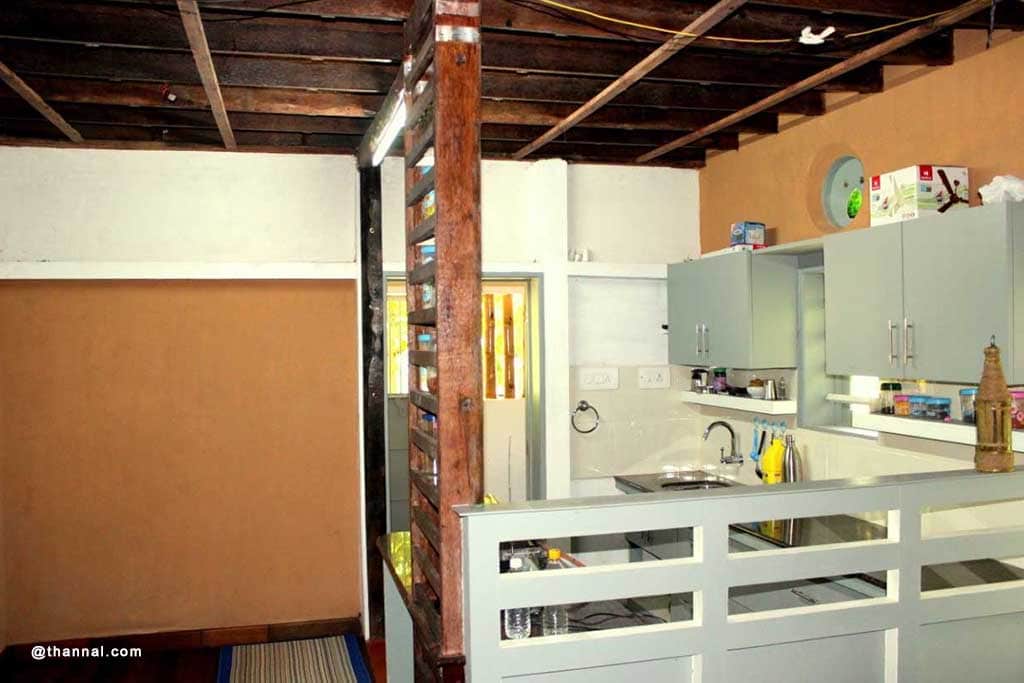 Devan Mash and his experimental flat mud floor:
The mesmerising Kerelaesque backdrop gradually led us to the comfortable Cob home of Devapriyan Kanjankat. After doing our earlier article about Traditional Flat earthen roof using Eeta leaves in Kavilpadinjaredathu Mana, a 100 year old gem in Manarkard, we were all set to this documentation in contemporary cousin mud floor system, made using similar traditional technique.
The building industry with the so called "advancement in technology", has led us to take the easy way out; the one which offers permanence. We readily opt for synthetic alternatives to solutions that have already been worked out and practiced for centuries, which are now suddenly obsolete for the modern world. We do not completely trust our natural materials and in search of foolproof solutions, we are losing our valuable traditional knowledge. We are always concerned that termites, insects or something ominous may bring the house down. But this is the least of Devan Mash's worries, he's the happiest when a part of the building fails, or a treatment method isn't good enough to keep pests at bay, he loves to see how a building behaves. That is what keeps him going, he's always searching for better solutions to respond to the issues at hand.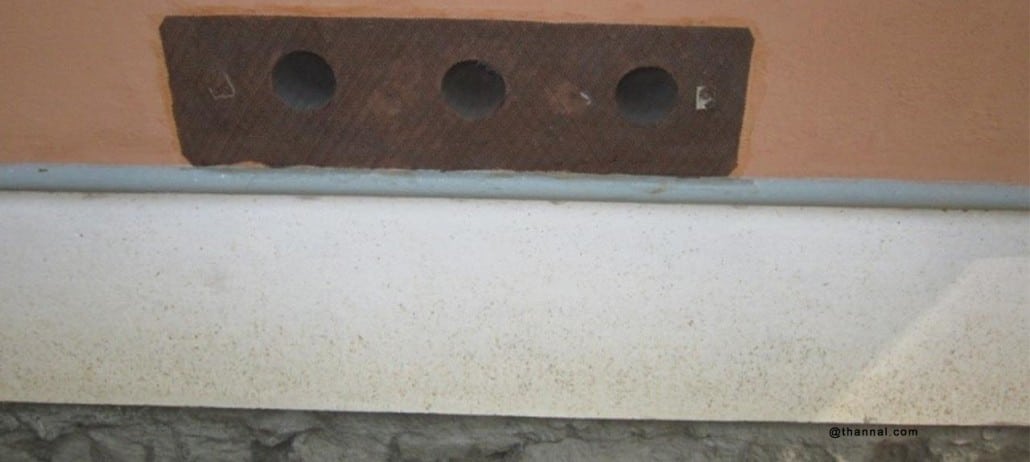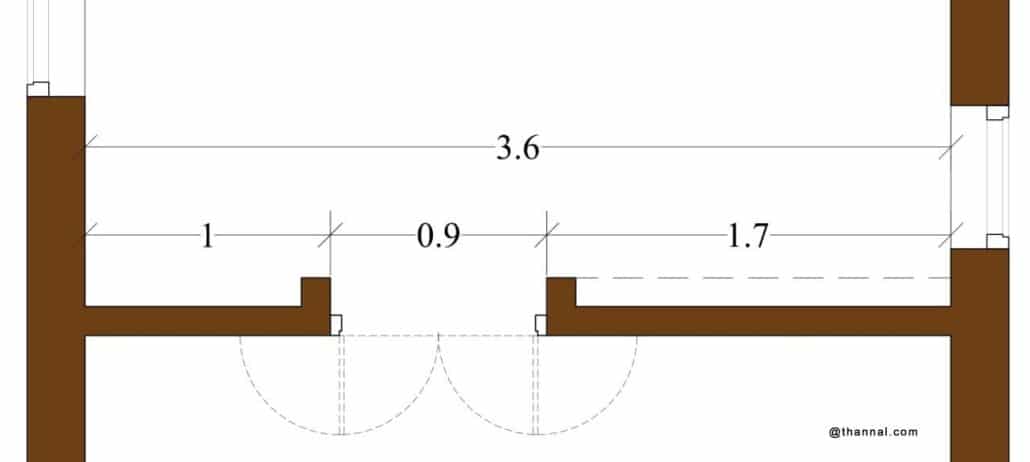 What is coming forth is not just about the magical floors, but the house as a whole entity, because we just cannot separate the mud floor from the building to talk about it. It goes without saying that this house has many experiments worth bringing in the spotlight, to be explored further.
This house is a blend of the ageless cob and a relatively new member of the earth construction family- Compressed mud block. You'd generally expect cob to be bulky, but not in this case. Just 24 cm thick, the sleek cob walls are gracefully adorned by tall windows at intervals, just wide enough so that the cob can take in many perforations while letting in ample light. Cob used here is stabilised with lime for better strength, as well as for termite resistance.
The cob wall has small openings in the top and the bottom of the wall to facilitate good ventilation, for keeping the house cool.
The 4" thick Cob wall:
His perseverance and meticulous calculations, made it possible for Devan Mash to design a 4" thick cob wall. Placed internally; this wall is connected with buttresses to transfer the load of the floor above.
The wall has an opening for accommodating the door; this breaks the wall into 2 parts. The walls end to create an opening where the buttresses are designed.
Overall span: 3.6 m Opening width: .9 m Buttresses dimensions: 12 cm X12 cm.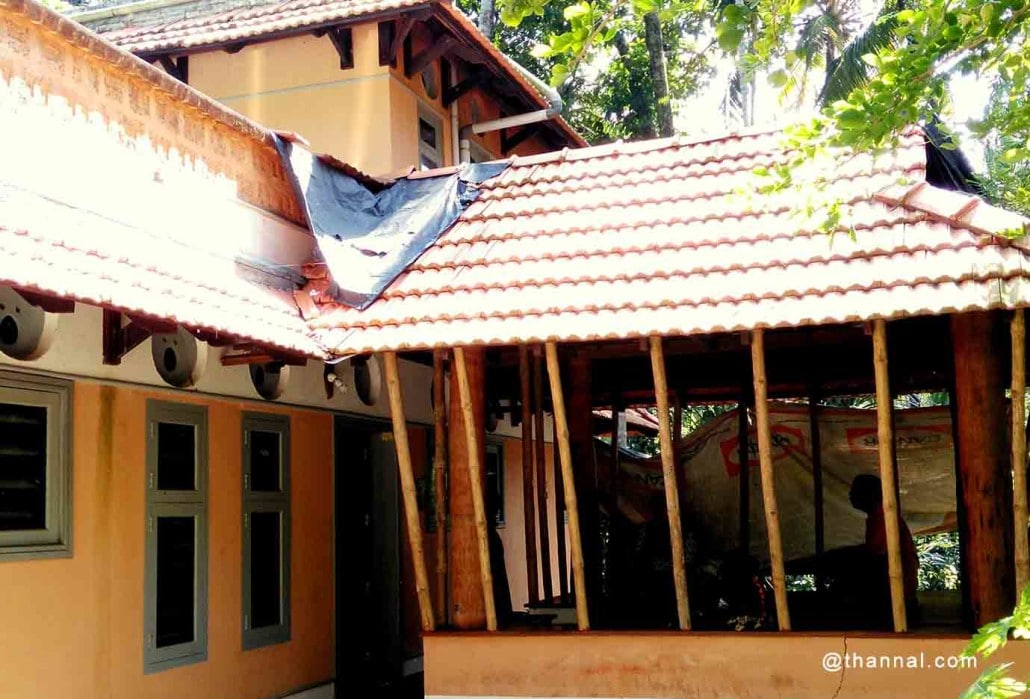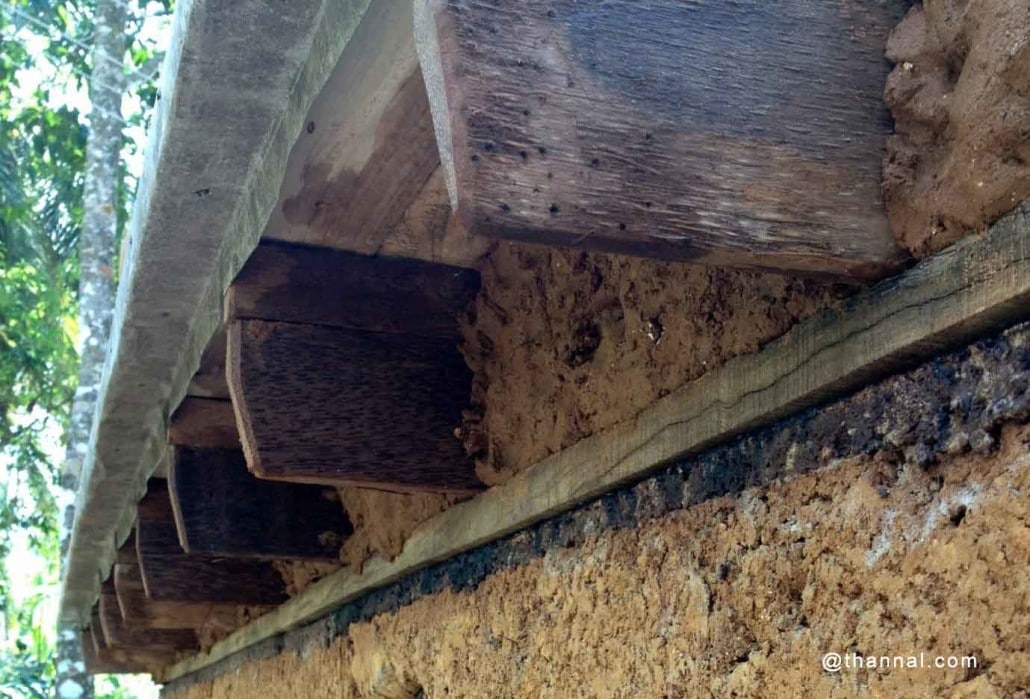 Compressed mud blocks are used in making the first floor walls. These blocks are a convenient alternative to cob, and can be laid like your regular masonry. Using the same mix as cob, the CMB's are made on the construction site itself. The staircase and parapet walls are made with the same blocks placed on their 4 inch edge, put together with mud-lime mortar. The top part of the compressed earth block parapet wall is lined with a layer of baked brick.
A porch was added later as an addition to the main building, and under it is the rain water harvesting tank. The roof of this porch is a mainly coconut beams and reused wooden members as rafters. A wooden spacer goes through the tie and the rafter, a typical Kerala style roof detail.
Bamboos used for the porch roofing structure, were treated with saline water and cow urine. This treatment was found to be resistant to some pests but not all. All wooden members are treated by coating them with cashew-shell oil.
For the plaster mix, cow urine is added along with finely sieved mud, sand, rice husk and lime. You can get a better insight into the plaster used here in our speaking natural finishes series.
Detail of Flat mud floor in the bedroom:
As explained in the sketch above, the structure is simply a system of rafters spaced at equal intervals on load bearing cob walls. Spanning length of 3.8 m, these coconut rafters rest on a wooden plank that runs along the entire length of the cob wall. The area of contact of the cob wall and the plank is lined with a thick layer of cashew-shell oil; also all members in contact with the cob are first coated generously with cashew shell oil. The rafters of the floor extend to support the sun shade which is independent of the wall. The members of the sun shade weren't nailed directly to the wall, but formed a perfect stable triangle which didn't need any connection to the wall. The boarding's are that of flattened bamboo boards available in sheets.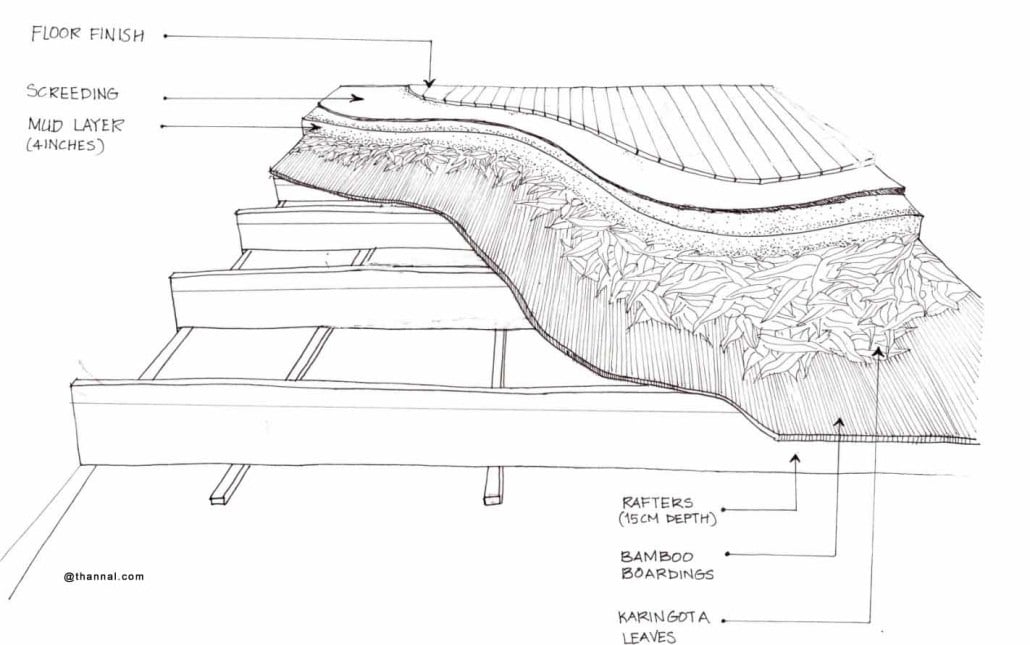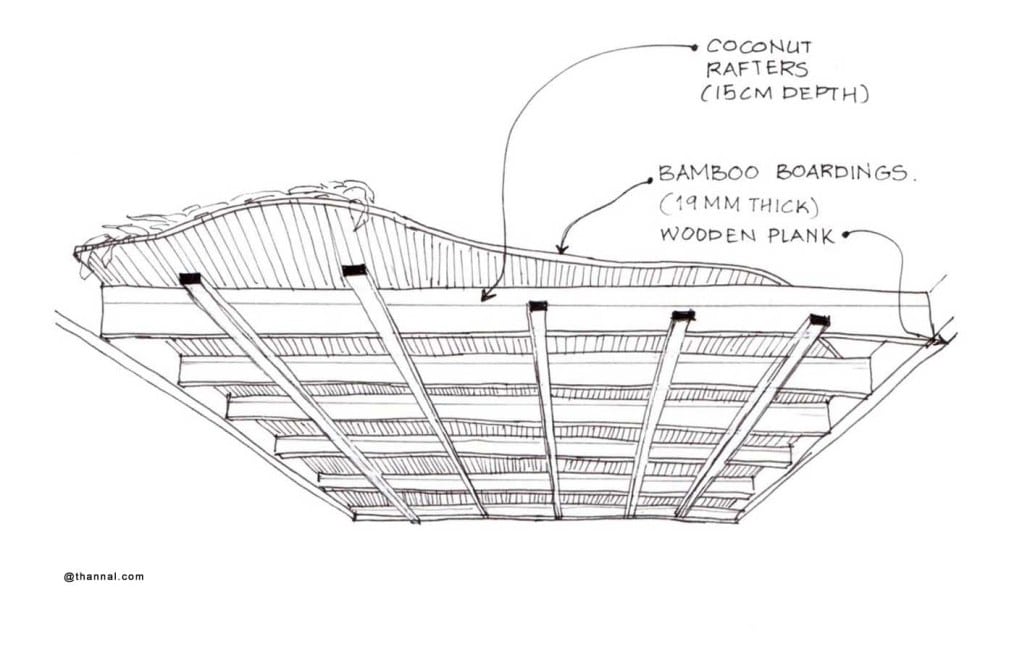 The joints between the boarding's are then covered with wooden reapers to seal them thoroughly. The layer that precedes the boarding's is Karingota leaves (Samadera indica Gaertn), overlapped and closely packed leaving no gaps, these leaves act as the vapour barrier. A vapour barrier is a material that is used for damp proofing that resists the diffusion of moisture. There has been no scientific evidence to confirm the properties of Karingota leaves as a vapour barrier and the mystery still remains, but time has proven that these leaves work perfectly and have been used in numerous flat mud floors traditionally. The next layer is a 4″ thick mud layer, compacted and levelled on top of the leaves. The same mix used for cob is also used for the floor. This is then finished with wooden boarding which is reused palette wood.
In a room with dimension 2.7 x 3.6 m the C/C distance between the Rafters was 30 cm.
The dimensions of the members of the floors were,
Plank below the Rafters: 3 cm thick Span of the Rafters: 3.8 m load bearing cob walls: 24 cm
Rafter = 3 X 15 cm Bamboo Boarding size = 1.2 m X 2.4 m Thickness- 19mm thick
Mud Layer = 10cm Thick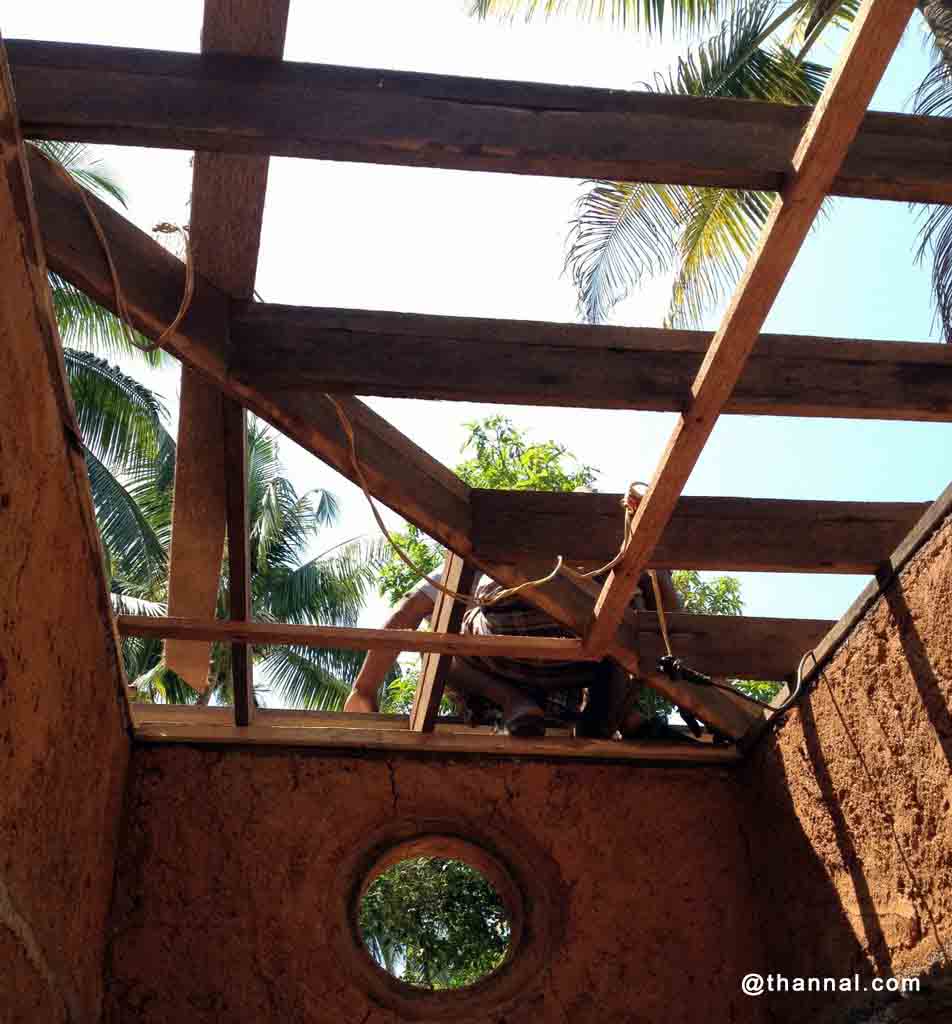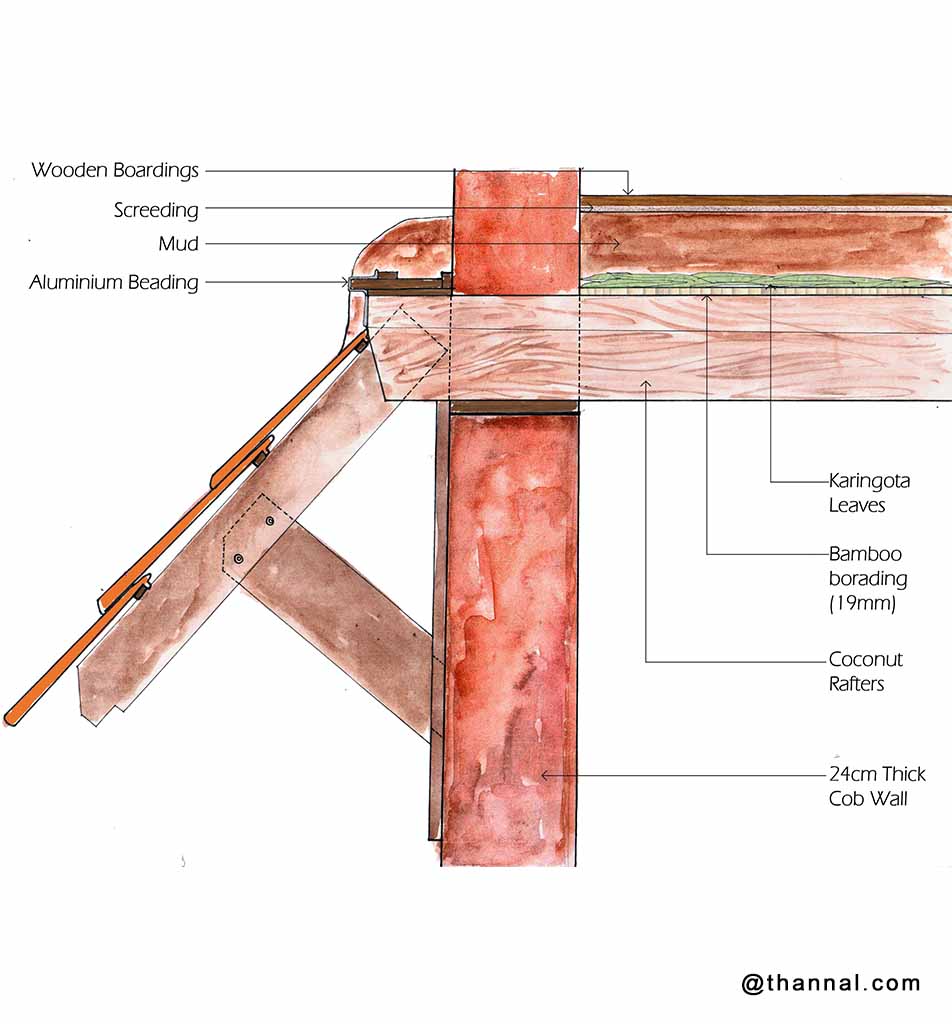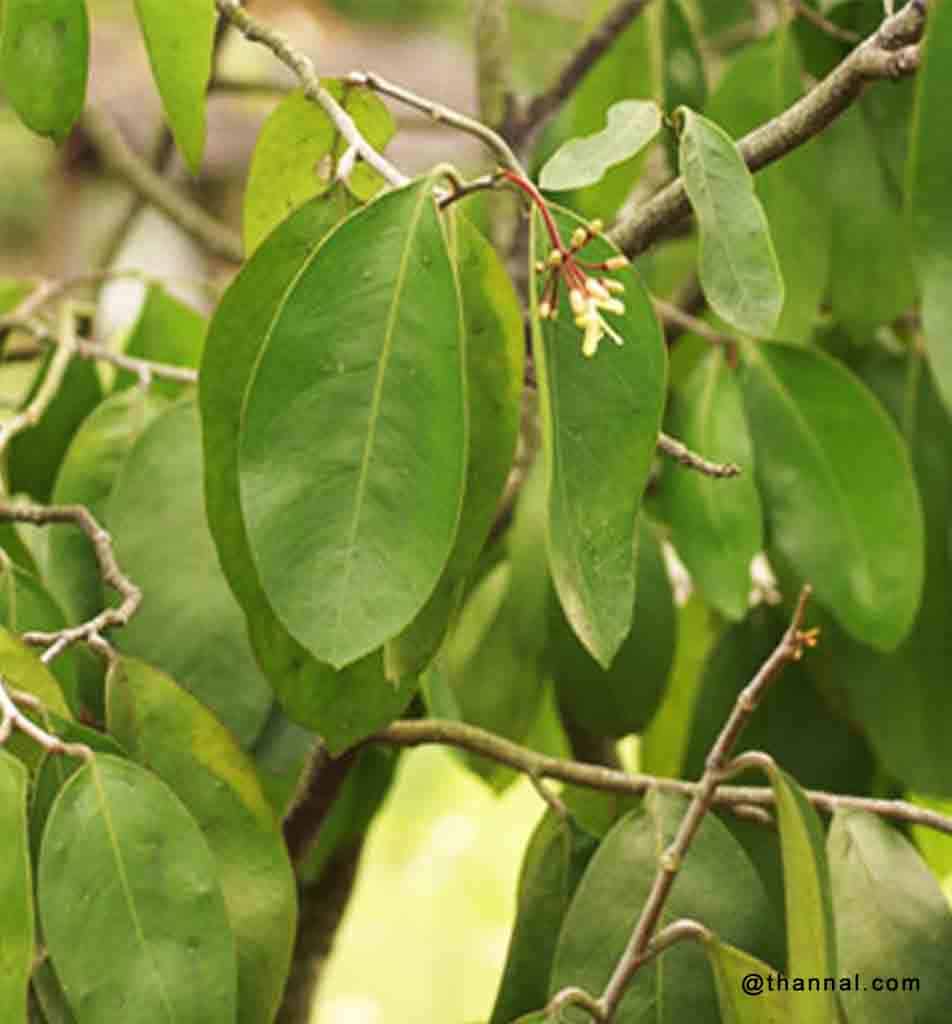 This compilation has inspired us to use and study more about importance of leaves in natural buildings and we hope this inspires you as well to confidently embrace traditional knowledge in your practices. For creating something new, you have to look back and learn from the past to understand what worked best, for our ancestors had more insight as a result of their relentless trials and experiments. Devan Mash is a living example for us who perseveres to push the limits in natural materials, applying the knowledge of the past and his own experiences. Let our future generations have something worthwhile to look back at. If we collectively do not care enough now, we shall end up becoming a poor mimic of the globalised landscape and their steel cold buildings, without any considerations for our fragile environment. We are losing our zeal to experiment, with everything that comes in our platter ready made and easy, with a recipe. We may perhaps get out of our comfort zones to explore, because there is a whole wide world of materials out there waiting to be rediscovered.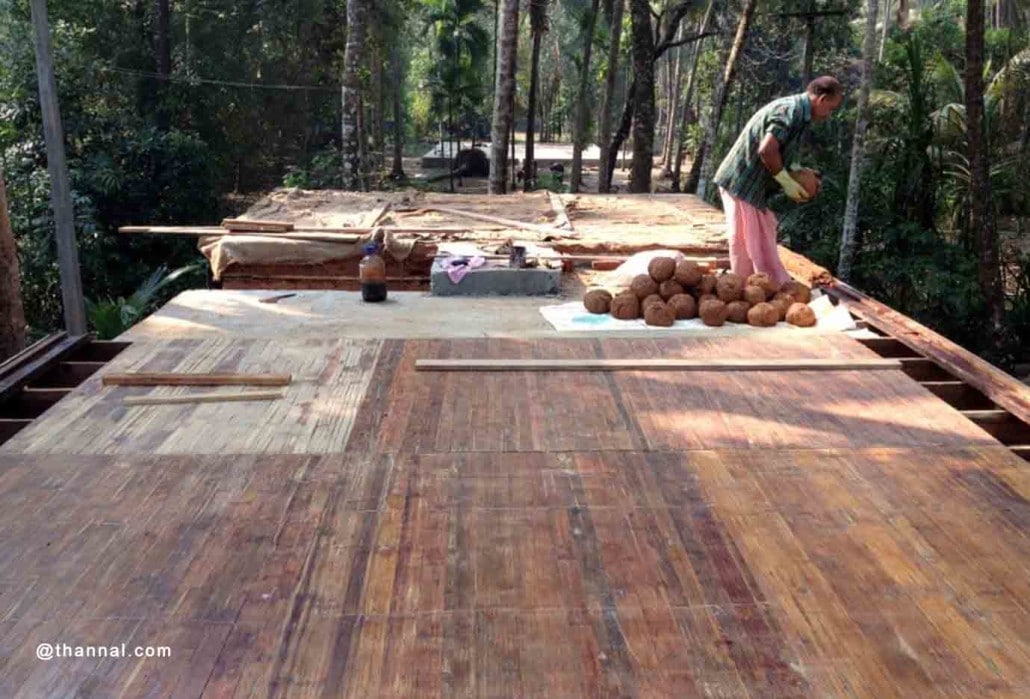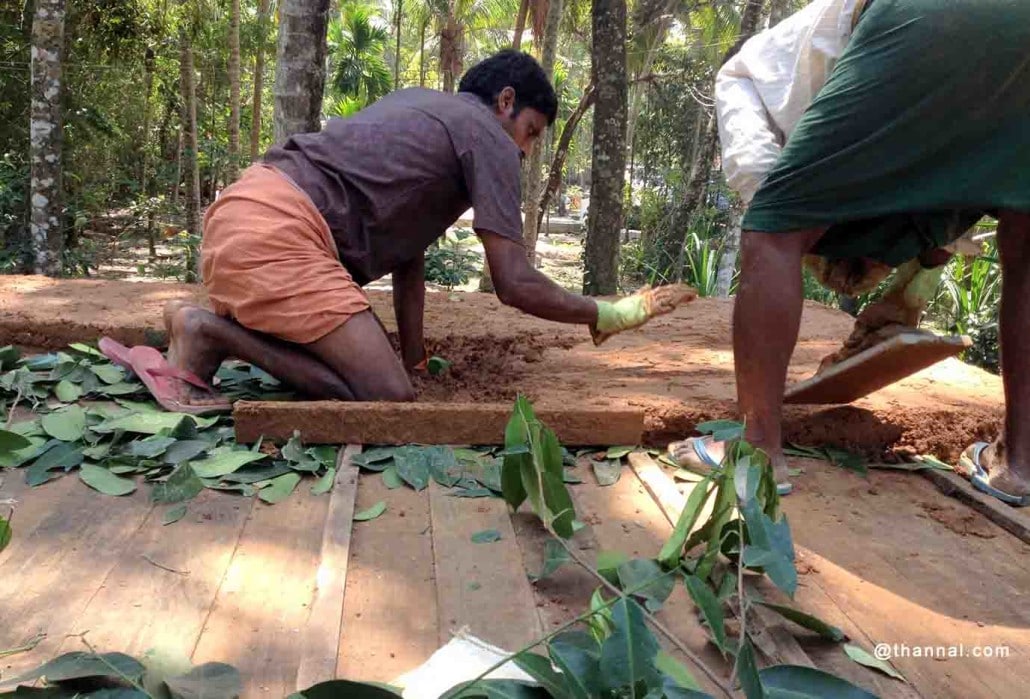 Devapriyan Kanjankat is a teacher in Laurie Baker Centre and a member of Costford, and has worked closely with Laurie Baker. Here's extending our gratitude to Devan Mash for very generously sharing his invaluable experiences and knowledge with us.
illustration: Musharaff Hebballi & Anushree Tendolkar