"Our Seeds are our biggest Weapons." – Nammalvar
Simply by changing the basic nature of "Seeds", Generations-old Crops and Genetic Diversity has been disturbed.
Before half a century, our Villages were Treasures of Native seeds, which slowly got faded and were forgotten through modern agriculture practices. Such common villagers of India are no longer the keepers of their inherently passed seeds. As more and more farmers start to depend on others for their seeds, slowly the Country's self-sustenance will be shattered.
We face a severe loss in our native species of plants, and we are in immediate need to save and grow our Native seeds.
Many aspiring organic farmers find it difficult to spot native seeds in their locality. This article aims at introducing a few of the many native seed collectors of Tamilnadu. Anybody can locate a farmer with a native seed reserve in their district and get help. Through constant spreading, growing and sharing of such native seeds, we can go back to the times of every farmer being a living seed bank.
The phone numbers and links mentioned in Native Seed Collectors of Tamil Nadu – Part 1 are active as of 27th March 2019.
1. Aadhiyagai Native Seeds Collection Centre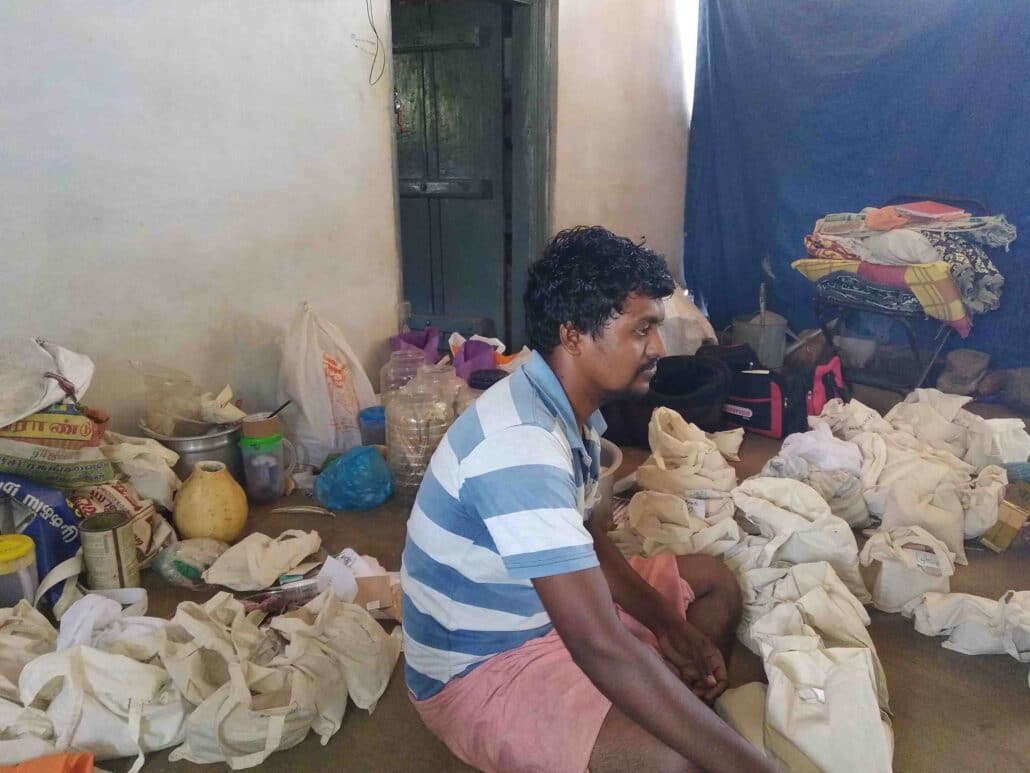 After his completion of Aeronautical Engineering, Paramesh resumed his family traditional occupation of agriculture. Noticing heavy loss for his parents in their farming, he took to learning what can be done right. Through classes in Vanagam, his path towards self-sustenance and native seed collection began.  Initially, Paramesh started helping his friends' needs of native seeds by collecting them from his locality, later started into a mainstream work of founding – Aadhiyagai Native Seeds Collection Centre.
Paramesh hustling around his hometown Ottanchathiram found many networks through online social media who were willing to share their seeds with him. About 80% of seeds that he collects are surprisingly from Kitchen gardens and Terrace gardens, compared to collecting from villages.
Genetic modification and Hybridisation are most common in vegetables and hence, Paramesh specifically concentrates on native vegetables to bring them back to practice.
From his travels and experience, Paramesh has found many connections with native seeds and occupation. Traditional Palm toddy climbers use a specific variety of Bottle Gourd, which can contain up to 20 litres of Pathaneer(Palm Nectar). Only such Palm tree climbers have the seeds of the variety and grow them traditionally. Similarly, snake charmers use a specific variety of Bottle gourd in making their wind instrument called Magudi (Snake Charmer's Flute) or Pungi, who has their collection of seeds. Paramesh's stories of native vegetable seeds seem never-ending.
For buying or spreading native vegetable seeds, Paramesh can be contacted at – 06380 845 836
Aadhiyagai Native Seed Collectors Centre –  https://www.facebook.com/pg/aadhiyagaiseedsavers/
2. Nagaraj, Dindigul
From 1987, Nagaraj was part of a Non-Governmental-Organisation, which reclaimed wastelands into forestlands. In the 1990s, he had a collection of about 200 varieties of various trees. Due to lack of funding, the project was closed, and Nagaraj started off on his own to reclaim wastelands in 2010 with his knowledge of trees.
Travelling through Tamilnadu's forests and hills, Nagaraj has overcome many difficulties to collect trees seeds. His search is curbed as access to many forests and hills are getting restricted now. Presently, he has about 60 types of tree seeds, which he is eager to share.
He also mentions that many local people still lack awareness on why native trees, and not just any trees should be planted and saved.
For buying native tree seeds, Nagaraj can be contacted at – 9942481429
3. Ka"Vidhai" Ganesan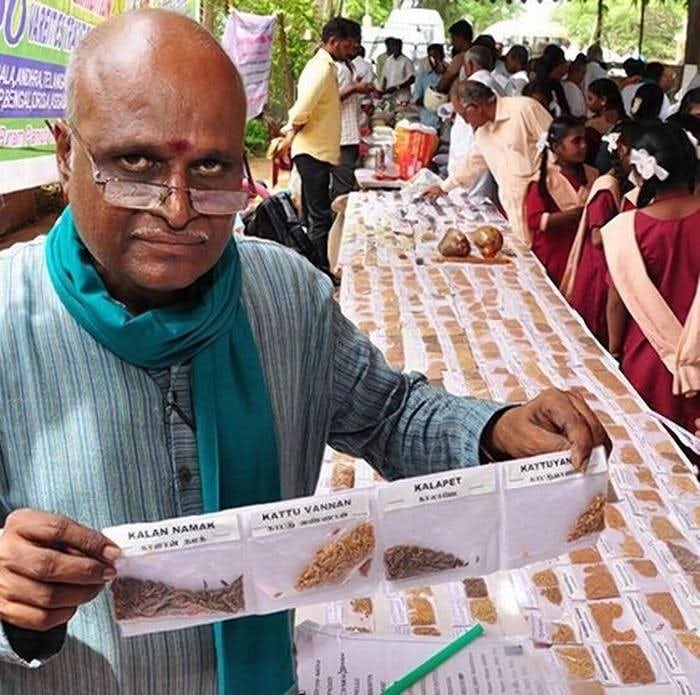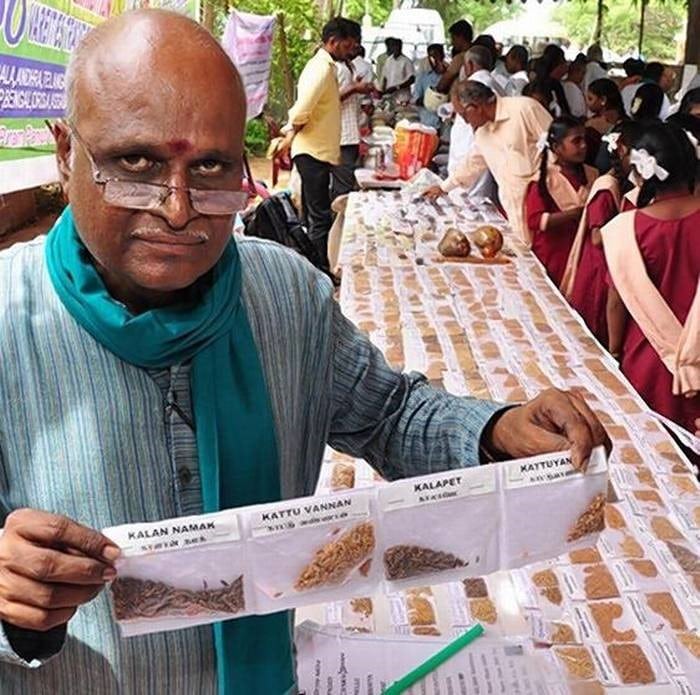 Photo credits – The Hindu Tamil
Ka"vidhai" Ganesan's journey starts with the teachings of Nammalvar and "Nel" Jeyaraman. He used to work as a Government Food Quality Control Manager, where he had the opportunity to travel to different states of India to meet different farmers and familiarise themselves with their seeds.
Writing many poems in Tamil (Kavidhai), along with his collection of seeds, he got to be known as Ka"vidhai" Ganesan.
During the Bengal famine of 1943, short term crops of paddy and wheat were introduced to increase grain yield. Shortly after, the native paddy seeds which were of longer crop duration slowly were forgotten. Such short-term crops not only ruined our soil, but also our health. Realising these outcomes, Ganesan started collecting information on specific native paddy varieties and their healing properties, that were mentioned from ancient literature. Today, Ka"vidhai" Ganesan has a collection of about 400 varieties of native paddy seeds.
Spreading awareness about native paddy to local people, Ganesan displays his collections in many seed festivals. He also mentions that India once had about 1,50,000 native paddy varieties. There are paddy varieties that grow in flooded regions, where people used to harvest the paddy in boats. Similarly, there are paddy varieties that sustain even in droughts or in salt plains.
Ka"vidhai" Ganesan serves as a bridge between seed producers as well as paddy producers. To get information about paddy in your nearby region, he can be contacted at – 9245103471
Do you want to study Natural Building Online ?
Carry the world of learning about Indian Natural Building in your pocket, accessible from anywhere around the world.
4. Pasumai Milir
After completing her degree in Agriculture, Saranya from Tirupur is the youngest among all, collecting native tree seeds. Researching into the different properties of trees and their uses, she is constantly in search of rare species. Presently, Pasumai Milir has about 60 varieties of Native tree seeds.
She also arranges for gifting seeds for Marriages or other events.
Pasumai Milir Saranya can be contacted at – +916384691873
5. Cuckoo Forest School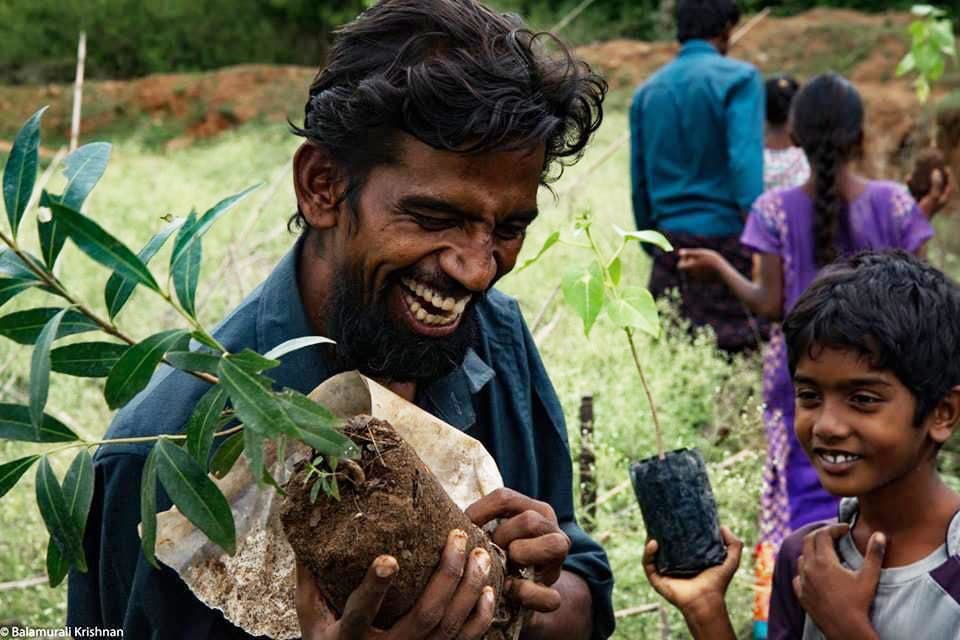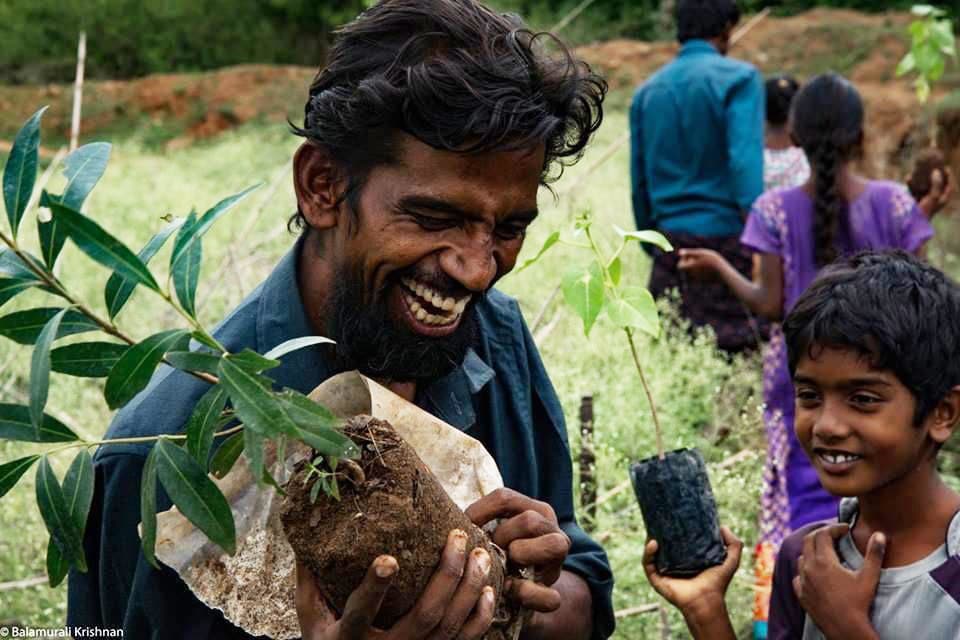 Photo Credits – Cuckoo Forest School
Every seed is a child. The much-needed work of reaching native seeds and their knowledge to children is undertaken by Cuckoo School's Subramani. In Cuckoo School, they collect native seeds from Javadhu hills, preserve them in a seed bank, and create awareness about them to children.
Children showing immense interest in growing trees, vegetables and medicinal herbs, usually fill the school's seed bank with different seed varieties. For those kids who grow their saplings well, the school encourages them with small gifts and more saplings. Traditional methods of Identifying seeds, increasing their sprouting capacity, sowing, sapling growth and preserving them are taught to the children.
People interested in seeds from Javadhu hills, can contact – 9943955487
6. Valli-Rajan Millet Savers
Valli-Rajan starts their conversation by declaring that their seeds are not commercially for sale. From 2006, they have been collecting seeds of millets like Ragi(),Foxtail Millet(),Little Millet(),Proso Millet() and so on. Over the years, they have collected around 70 varieties of Ragi alone, and many other millets. Every year, they undertake travels in search of different native seeds and spread awareness about them.
Collecting millets especially, they are extending to vegetables by encouraging more women and children to take part in the process. They are creating awareness among Government schools, by encouraging them to self-sustainable grow their own food for mid-day meals.
To share seeds among small-scale farmers, school children, Valli-Rajan can be contacted at – 9448872207
7. Rangamalai Organic Farm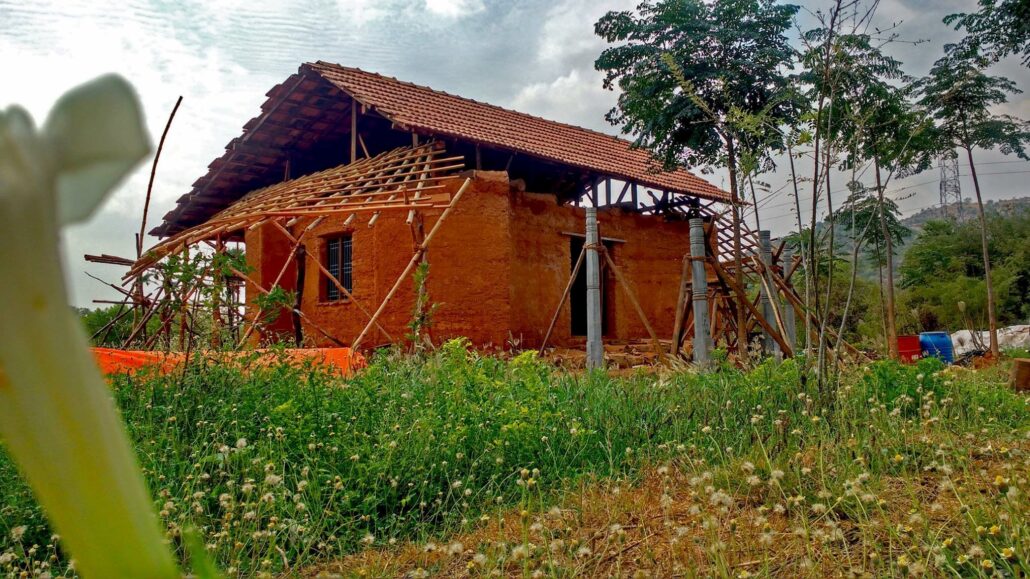 Pradeep is in the process of leaving his IT industry job to move back to his native village and trace back his family tradition rooted in farming. In the hard times of water shortage in his native when most farmers had quit practising, he started farming with reduced water consumption techniques like drip irrigation and converted his farmlands into multi-crop yielding fields.
He believes that every farmer should have a reserve where he stores seeds for the next season than being dependent on the public seed banks. Thannal has taken up this initiative of a seed bank to contribute to the efforts of Pradeep to demonstrate a system of farming made feasible by the effective utilisation of resources from nature.
Rangamalai Organic Farm – https://www.facebook.com/pg/RangaMalaiOrganics/
This post is the first among the series of Native Seed Collectors