Speaking Natural Finishes – series 1
Over the past year, we have been working with clay plasters in our home in Scotland and I have come to love the flexibility and diversity of earth finishes (my background is in stone masonry and lime). Our building is a patchwork of natural materials – an old stone cottage at its heart which has been extended with a green oak frame, sheep's wool and clay/hemp insulation, wattle and daub and adobe internal walls, earth floors and earth radiators.
We make our earth plasters using brown or grey clay subsoil, dug from a few miles away, and local sand. The base coat is usually a very fibrous mix, with hemp shiv and/or short chopped straw. Once the clay has been soaked for a few days to soften it I mix it with sand using a large handheld paddle drill in a steel bin, gradually adding water until it is the consistency of porridge – a sloppy but thick paste. The sand helps grind up any dense clay lumps that remain. This could all be done by foot but I often work alone so the drill is easier. Then I add the fibre, either by hand on a warm day or using the drill.  The amounts are roughly 1 part clay soil, 1 part coarse sharp sand, 1 part fibre but a bit of variation is fine. My clay soil is very fine and silty and contains approximately 30% pure clay.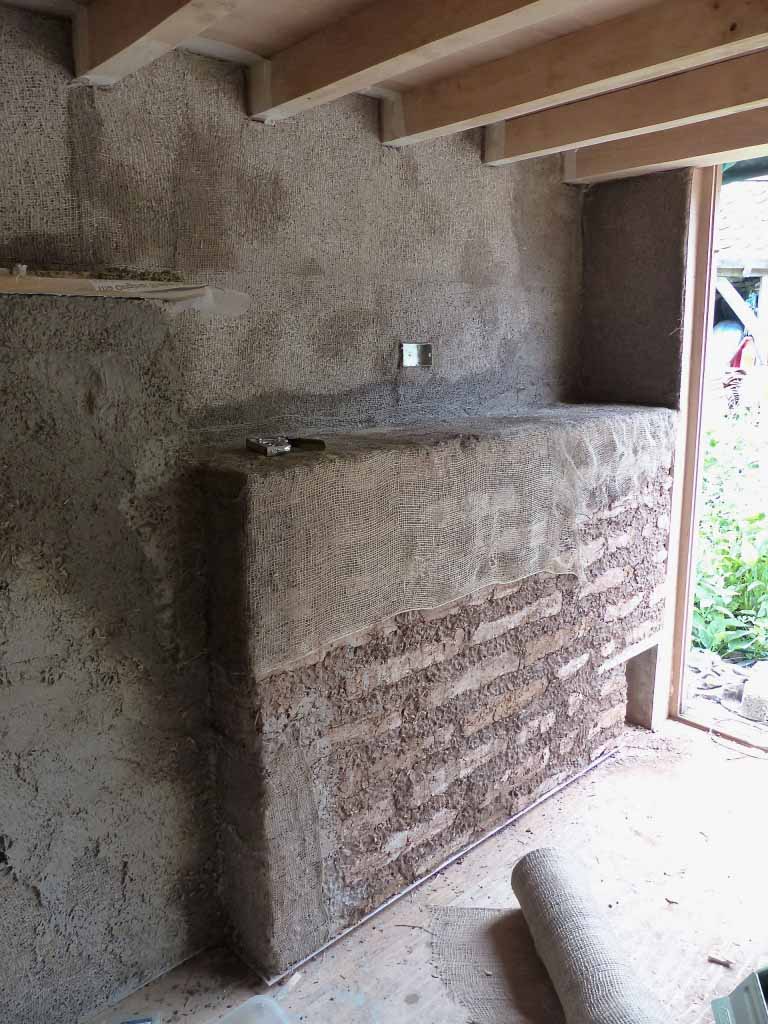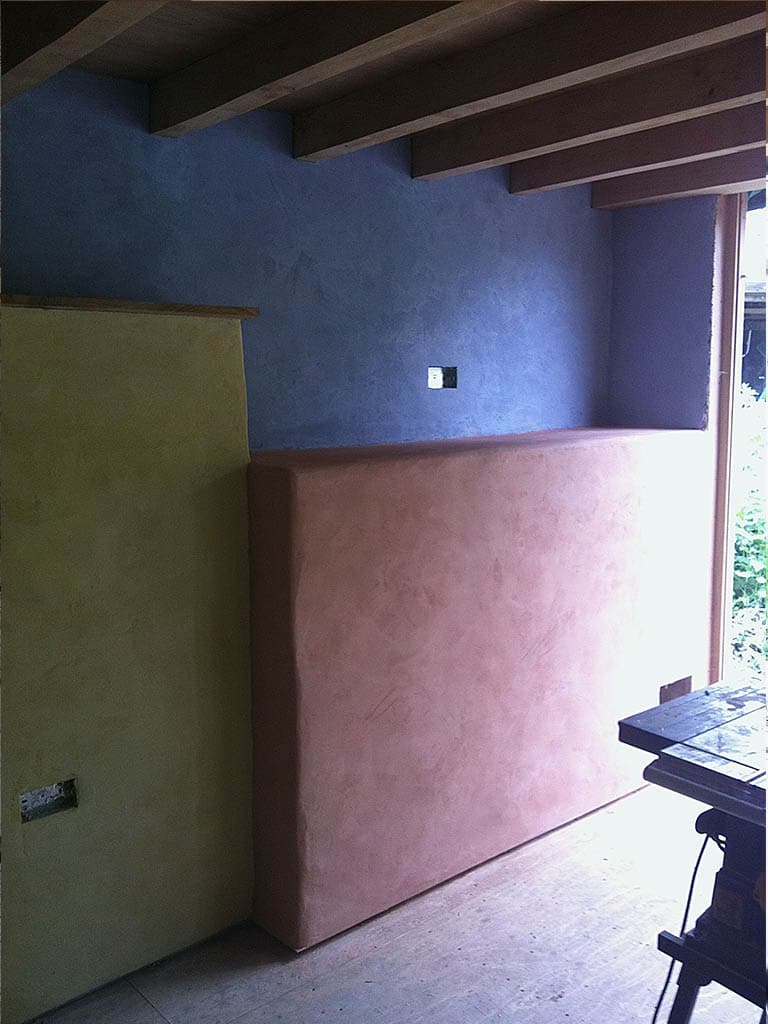 Once this base coat plaster is mixed it can be applied straight away or left for a few days. If the balance of moisture content and fibre is good it will stick to pretty much anything, even without wetting the background, and can be used fairly thick (up to a couple of inches or more). I use a clay slip paint to prime woodwork, lime mortar, stone or anything other than clay and I tend to work with my hands at this stage rather than trowels or floats, so that I can feel when the surface is level and leave a bit of texture as a key for the finishing coat. Fingers also seem like the best tool to help the plaster stick, gently massaging the mix onto the wall. Working this way the bulk of the plaster is cheap, local, quick to apply and can be made with any kind of clay soil – I have yet to find one that doesn't work here anyway.
It is possible to apply a top coat plaster to a damp base coat but I tend to wait for everything to be really dry to ensure no cracking occurs. In our cold damp climate drying at depth can be very slow and cracks can appear weeks later even though the surface looks dry. We have some very beautiful fine clay plasters from Clayworks that we trowel on, damping the background before we begin with a fine spray to control suction. These coats are very thin (2-3mm) and do take some skill to create an even finish…..I'm still practising! It is also possible to mix your own finish coat with fine clays and sands. I am planning a white mix containing very fine fibers for our next room.
Do you want to study Natural Building Online ?
Learn Indian Natural Building Anytime and Anywhere with Thannal!.