5 Day Combo Natural building workshop
Note: Please follow the registration procedure after reading the entire terms and workshop details
The 5-day Hands-on and Complete Companion of Natural Building Combo workshop –
1. October 1st – 5th, 2023 (Status: Housefull)
2. December 11th – 15th, 2023 (Status: Housefull)
3. January 26th – 30th, 2024 (Status: Open)
If you're excited about joining this year's 5-day Hands-on and Complete Companion Natural Building Combo workshop, you can now sign up for the waiting list in case all seats are filled. If there are any cancellations or openings, we will notify you promptly. To ensure you have a reserved seat, please send an email to thannalroots<@>gmail.com
Time- 09:30 AM – 5:30 PM
Venue: Thannal Campus, Tiruvannamalai, TamilNadu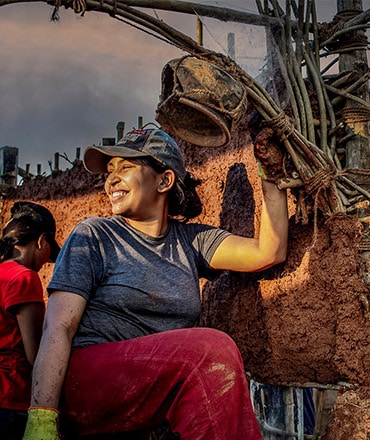 Overview
Due to popular demand from many earth lovers, we are introducing a Combo workshop. Here's what you'll receive:
A 5-day hands-on training session
For a 10-day workshop, the fee is 30,500 INR, and for the Part 1-4 Online Course, the fee is 25,999 INR. By participating, you not only save 19,500 INR but also gain a deeper understanding of natural buildings within a shorter timeframe. In addition to covering all the content of the 10-day workshop, the online course offers much more that cannot be covered in just 10 days.
Fee Structure

5- Day combo Workshop charges are 37,000 INR per participant, for both the Hand-on workshop and Part 1-4 Complete Companion of natural building Online course. By joining us, you'll not only save money but also eliminate the costs of accommodation and travel for 5 days.
To secure your enrollment, an advance payment of 22,000 INR (which allows you to save 3,999 INR for the online course) must be made through a bank transfer or UPI transfer. The remaining payment of 15,000 INR can be paid on the first day of the 5-day hands-on workshop.
As an added bonus, if a family member (husband or wife) wishes to participate in the hands-on workshop, an additional fee of 18,000 INR shall be paid. However, access to the online course will be granted only for the one desired account. We are offering a highly valuable seat that many others are eagerly awaiting. Children below 10 years of age can attend for free, while kids aged 10-16 years are required to pay only 50% of the workshop fee, which amounts to 9,000 INR (50% of 18,000 INR).
Content
5 Day Hands-On Workshop

Day 1
Thannal and Team Introduction, Participants introduction, Introduction to Natural Building (Theory), Material Library (Theory), Thannal Lab Natural Building glossary (Theory), Mud Class (Theory and Hands-on) | Break | Mud Sampling (Hands-on) || Lunch || Lime Class (Prototype), Bamboo and its types and treatment (Theory and Prototype)| Break | Cob Mix (Hands-on)
Day 2
Admixtures (Theory and Prototype), Wall systems (Theory) | Mud Mix (Hands-on), Adobe bricks making (Hands-on) || Lunch || Mud Mix(Hands-on), Cob wall making, Niches, Window placement (Hands-on).
Day 3
Cob correction(Hands-on),  Wattle and Daub mix (Hands-on) || Lunch || Wattle and Daub (Hands-on), Sculpting in Wattle and Daub (Hands-on)
Day 4
Dry Mix (Hands-on), Earth Bag making (Hands-on), CSMB (Hands-on) || Lunch || Plasters theory and hands-on application (Theory and Hands-on)
Day 5
Roofing (Theory and Prototype), Lime wash, Clay paints (Prototype)|| Lunch || Doubt clearing session (Theory), Campus Tour, Group Photo
No. of Theory sessions: 10  | No. of Hands-On sessions: 13 | No. of Prototype: 5
Content
Online Course

Part 1: Essential Materials of Natural Building – Introduction to Natural Building, Mud, Bamboo, Lime, Surkhi, Admixtures – 1
Part 2: Natural roofing techniques – Introduction to Roofing Techniques, Flat Mud Roof, Madras Terrace Roof, Limecrete Roof, Khiru Roof, Adobe Roof, Pot Tile Roof / Country tile roof, Sandwich Roof using Terracotta Tile
Part 3: Wall Systems & Foundation – Foundation, plinth and plinth beam, Different Wall systems, Wet mixes, Cob, Wattle and Daub, Adobe, Dry mixes, Earthbag, CSMB, Openings, Masonry and mixes
Part 4: Natural Finishes & Flooring

Total Duration: About  20 hours | Learn at your own pace | Validity: Lifetime
Workshop Location:
Thannal campus, Tiruvannamalai, Tamilnadu
Food:
The fee covers lunch and refreshments exclusively during the workshop days. However, it does not include accommodation, travel expenses, or any costs associated with site visits.
Travel:
Nearest Railway Stations: Tiruvannamalai, Katpadi and Villupuram.
Nearest Airport: Chennai, Bangalore.
Accommodation & Transportation:

Accommodation is not available within the Thannal Campus. Therefore, participants are required to find and arrange their own guest house. We will provide a list of nearby places to stay. Please note that the accommodation cost is not included in the course fee. Additionally, participants are responsible for organizing their daily commute to the campus, which is located 6 km from Ramana Ashram, Tiruvannamalai, during the workshop days. Many guest houses in the area offer bicycles or scooters for rent at nominal rates, which can facilitate transportation. Alternatively, participants can consider sharing vehicles with other participants.
Kindly read the Cancellation Policy:

We understand that circumstances may arise when you can't attend our hands-on workshop after booking a seat. However, kindly note that we have limited seats available and finding a replacement on short notice may be difficult.
The advance payment is non-refundable, but in return, you will receive access to the Part 1-4 Complete Companion of the Natural Building Online Course.
If you wish to cancel your booking, kindly inform the Thannal team via email at least 20 days before the workshop. In such a case, we will allow you to attend the next 5-day workshop without any penalties (so be sure to attend our next 5-day workshop). It is important to note that seat availability follows a first-come, first-served basis, and only 5 seats are allocated for cancellations. If all 5 seats have been booked, you can participate in the subsequent workshop.
For cancellations made within 20 days of the workshop, an extra fee of 4,500 INR must be paid in addition to the original workshop fee (i.e., 15,000 + 4,500 = 19,500 INR). In this case, you still have the option to attend the next 5-day workshop (please note that this option will only be available for the next 5-day workshop; there won't be any further options). Alternatively, if you cannot attend on those dates, you can choose to participate in either our 2-day workshop or the 10-day workshop by paying the full fee for the respective workshop.
Registration:
To book the tickets write to us thannalroots<@>gmail.com. The further step-by-step process and payment details shall be informed to you via mail. Kindly note that entry to the workshop is only possible through email; further details will be provided via email.
Please be aware that the next 10-Days and 2- Days workshops will be held in 2024, but the specific dates have not been determined yet. However, you have the opportunity to participate in the 5-day Hands-on and Complete Companion of Natural Building Combo workshop.
Completed Workshops
Over 50 +  hands-on training programmes were conducted and 1500+ people trained