Note: Proceed to the payment link at the bottom after reading the entire terms & workshop details.
Status:
Dates not fixed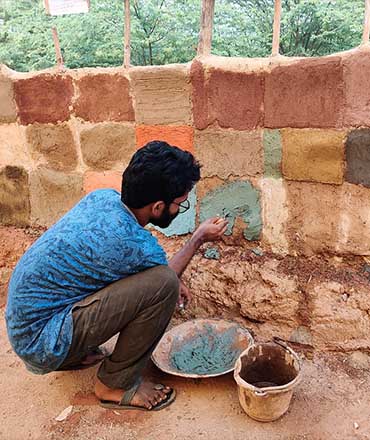 Overview
A One-day-crash course on Natural Finishes, through which participants will be introduced to various natural methods in finishing wall surfaces by masons and natural builders.
Important learning from this course will be how to plaster walls using Mud, Lime and admixtures from plants and animals by experiencing different natural plasters done in our buildings, in different shades and colours. Natural plasters can be both used for exteriors and interiors and helps in creating a healthy living conditions as they do not contain any harmful chemicals or stabilizers.
This course covers five different plasters – two mud plasters, two mud + lime plasters and one pure lime plaster. This is an entirely prototype workshop, in which you will see our artisans demonstrate how to do different plasters. How to work with different kinds of Mud to attain different shades, admixtures derived from plants and animals to stabilise the plasters will also be taught.
Sessions on:
Introduction to Natural Plasters
Testing & Identifying different types of Mud
Lime cycle
Natural Polymers & Admixtures
How to prepare a surface for plastering?
How to Test your Plaster?
Base Coat
Mud Plaster First Coat
Mud Plaster Final Coat
Mud + Lime Plaster First Coat
Mud + Lime Plaster Final Coat
Lime Plaster First Coat
Lime Plaster Final Coat
Sessions by:
Biju Bhaskar and other members of Thannal.
Location:
Thannal campus, Tiruvannamalai, Tamilnadu.
Travel:
Nearest Railway Stations: Tiruvannamalai, Katpadi and Villupuram.
Nearest Airport: Chennai, Bengaluru.
Fee:
We will announce the new fee amount when the workshop dates are fixed.
We function in a manner in which all our studies, documentations, travels and researches are funded with the money from workshops, not from any external funds, sponsorships and fellowships. Projects are done on gift culture, without any consultation fee, which are the results of our studies of Indian Traditional Natural Building techniques. We expect people who want to learn from us to understand this situation and kindly not ask for discounts in our study programmes. As we do not have any scholarships available right now, you can find a sponsor for yourself to study with us (you will be supporting us this way).
Registration:
Pay the course fee using the link given below to register.
We are seeking participants with all levels of experience. Most importantly, applicants should have enthusiasm, a deep willingness to learn, an appreciation for working with their hands and a good attitude!
Prepare for the day:
Please see the below links for details of things to carry and other matters of concern. Prepare for the workshop.
Cancellation/Refund Policy:
As per the policies of Thannal Mud Homes Trust, if you want to cancel your reservation, kindly let us know clearly 15 days before the workshop (It is difficult to find a replacement for the vacant seat on short notice). In case of cancellation, we will refund you 75% of the registration fee.
No refunds will be provided on cancellations done in a later stage, that is, within 15 days of the first day of the workshop.
If you are unable to attend the workshop you have booked for and wish to change to another workshop, your money can be adjusted into the fee of the workshop you are attending. You will be provided with only one chance of transfer, with a transfer request placed before 15 days of the workshop.
Transfer in workshop dates cannot be done within 30 days of the workshop. 
In case if you are unable to attend and it is within 30 days of the starting date of the workshop, you can nominate someone else on your behalf. Your registration fee can be transferred to the person nominated by you.
All penalties due to cancellation will be taken in as a donation for our upcoming publications or activities of Thannal Natural Building School.
Note:
This workshop is open to all professions and age groups.
We don't entertain non-participants at the workshop site during workshop hours unless it is unavoidable (please let us know in advance).
We welcome families taking part in the workshop together. Children below 10 years can attend the workshop for free with their parents. Children from 10-18 years of age have to pay 50% of the workshop fee.
Do respect the privacy of others when you go visit any nearby sites.
Do wear light comfortable cotton clothes, preferably old, to beat the heat. There are very few chances of your clothes not getting soiled.
The sun can be a bit harsh here so carry sunscreen and headgears.
Do keep yourself hydrated to avoid any discomforts. You can also carry Electoral & Glucose for that extra boost of energy.
Wear footwear that you can slip in and out of easily.
At times, working with hands can get a little rough; you can get a pair of work gloves along!
Please carry your emergency medicine if and when required.
Keep your cell phones away while working, this is a no selfie zone. Video recording during lectures or demonstrations is also prohibited, notes can be written down.
The itinerary is subject to change as per the site and weather conditions.
For queries: thannalroots<@>gmail.com
Completed Workshops
Over 50 +  hands-on training programmes were conducted and 1500+ people trained