Tiruvannamalai, Tamil Nadu – Our Works – series 2
A conventional building involves an architect, builder, workers, and owner in their specific roles. What happens, when these lines are blurred and everyone comes together to work in cohesion? One such interesting concept for a natural building process at Thannal was to engage and empower learners to build a cob hut. This cob hut at Yerikarai studio in Anandavanam, Tiruvannamalai was implemented entirely relying on volunteers, conceptualized and guided by Natural builder Biju Bhaskar, and assisted by local master bamboo craftsmen Swami Anna, Kashi Anna.
This rustic hut takes up an area of just 350 sq ft. which also includes the verandah that doubles up as a sleeping spot on a hot summer's night. Which otherwise would be pleasant space to just stop and relax after a long day's work at the farm. Inside the hut, the low height platform serves as the sleeping, sitting and writing space. Making the user bow down, humbling him/her to look around at the beauty that surrounds it. The space is a warm enclosure, hugging you, yet free and open with low height windows connecting you with the outside, framing beautiful views. A spacious loft above is also a part of the hut, along with the bamboo ladder that leads you to it.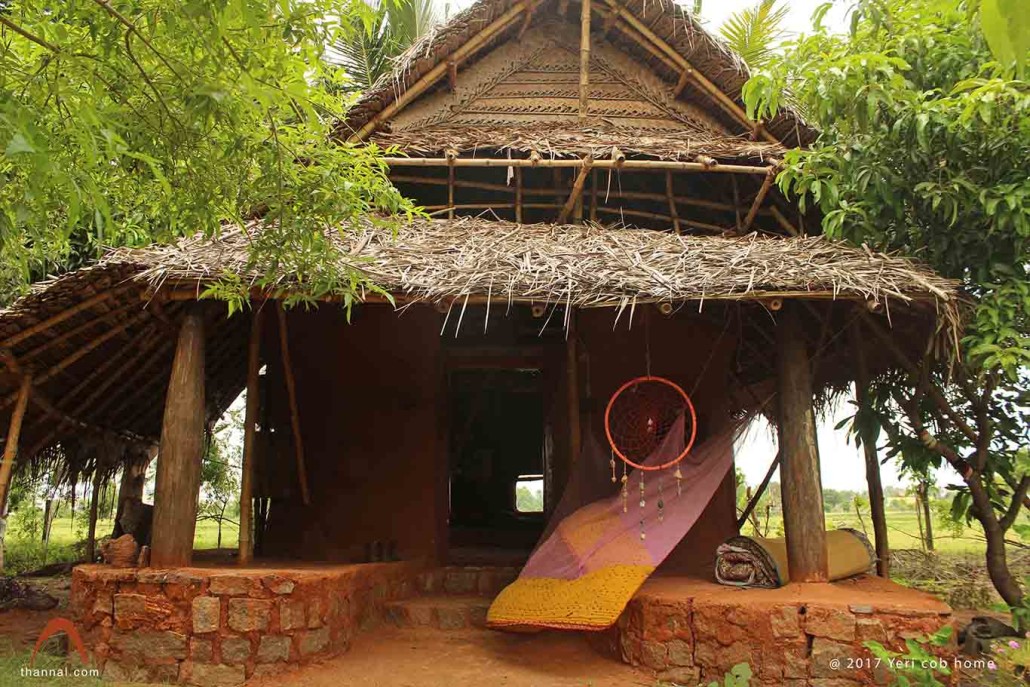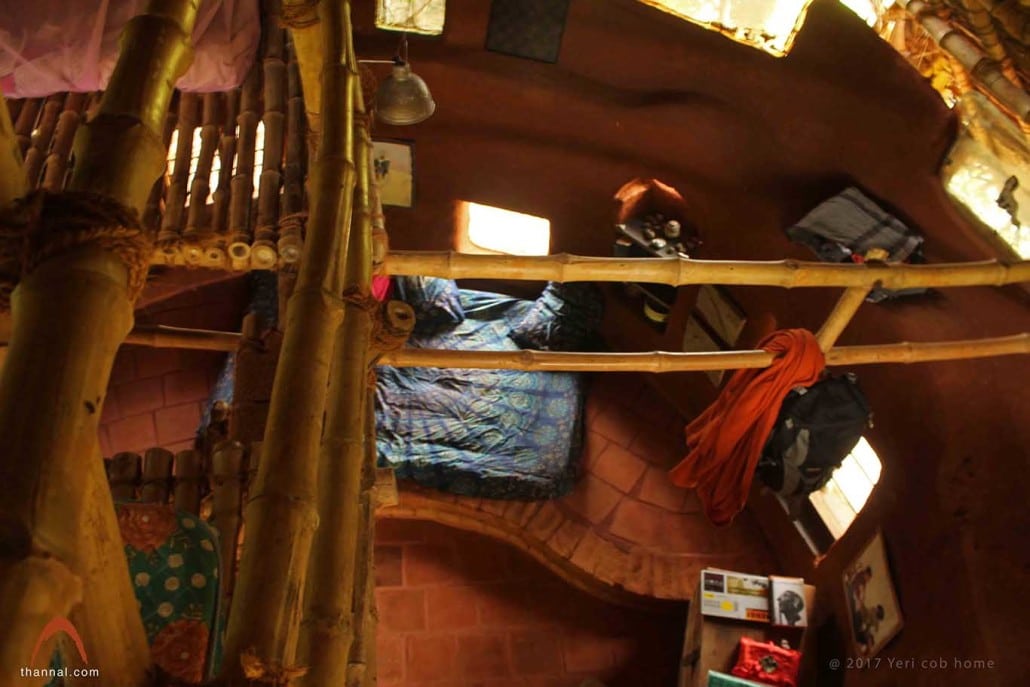 With a simple material palette of just lime, mud, terracotta and bamboo, a comfortable space can be created. The foundation is made of stone and lime while the walls are made of cob. All windows and doors used here are repurposed. The flooring is made of the cool terracotta tiles, complimenting the earthy shades of the hut. The roof structure is bamboo covered with coconut thatch, with a steep slope for a comfortable loft headroom. Storage spaces come in the form of niches, clay pots embellished with broken tiles, and shelves inbuilt in the walls. The total expense of this project is just under Rs 85,000 .
Click the green link below to see documentation of Erikarai cob home

The reward of building a natural building is the sheer joy of working with bare hands touching the earth, slowly nurturing it while in return, it nurtures you. This beautiful process makes us more connected not only with nature but also with our fellow human beings. These learning's from a natural building will help us create a peaceful world by strengthening communities while building less and living more.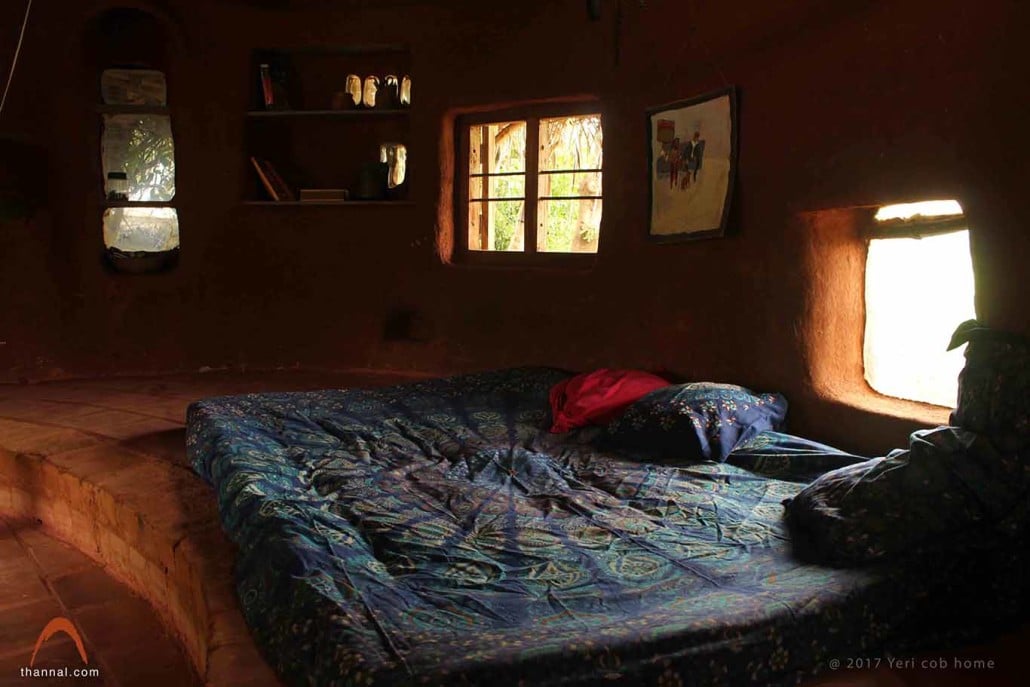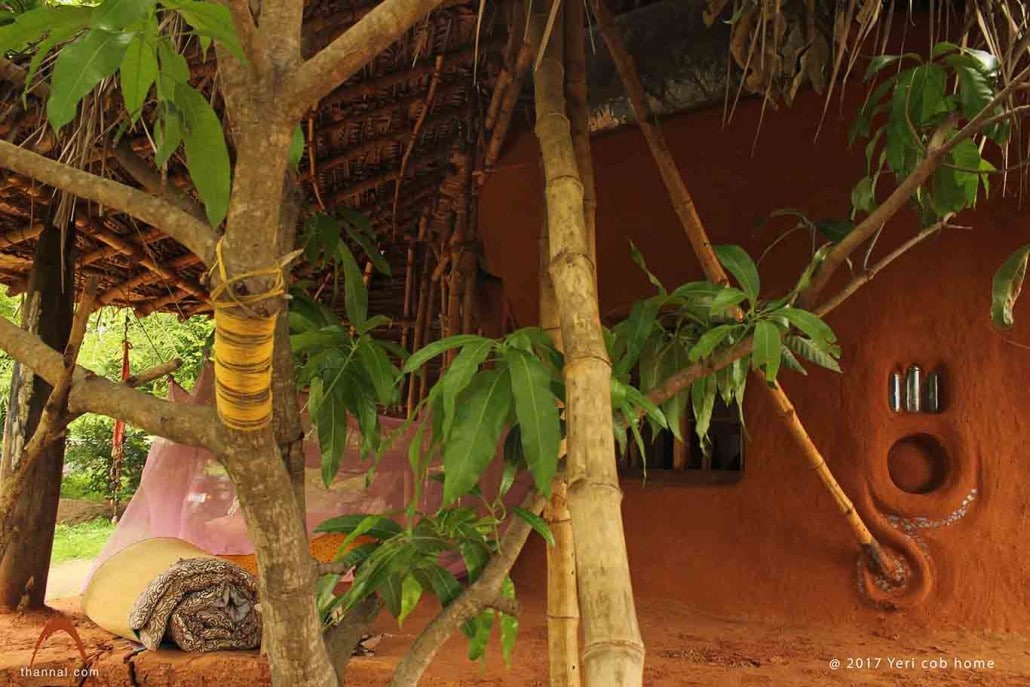 Updates
31 july 2018
After continuous queries and doubts from many people regarding the stability of a mud building (without stabilized with Cement) during high rainfall or flooding situation, we present here a video of what happened during flooding in our project Earikarai Cob Home, Anandavanam, Tiruvannamalai in December 2017. We had 4 feet high water level for 3 days.
This Cob Home is not with a very-high stabilisation, no plinth protection, no pipes under foundation for water drainage (French Drains), no plinth beam to avoid capillary action of water into the walls or no EPDM or Recycled Rubber Tyre sheets in flooring to prevent water seepage through foundation into the room. Still the building stood strong, although we have termite attacks due to extra dampness in the walls. We are resolving it through multiple coats of Lime wash & admixtures.
Lime and admixtures in our Cob mix, like Kadukkai (Teriminalia Chebula or Haritaki) and Jaggery (Gud) helps in better binding of the walls, which enables them to withstand heavy rainy splashing on them.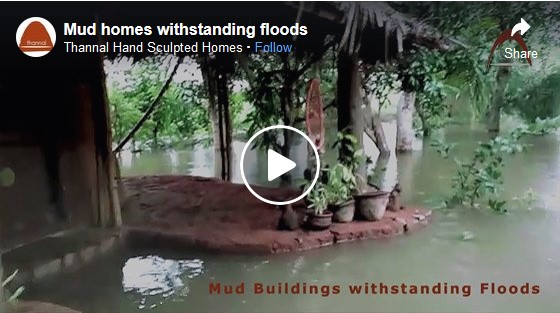 So for high water logging areas, following precautions while designing are essential for a Mud Home
Proper land drainage to channel off excess water.
Placing your building in the highest point on-site.
A leak proof roof.
Minimum 3 to 4 feet high, stone foundation.
Proper stabilisation in walls using lime and admixtures.
Proper drainage around the building to avoid standing water and direct the water away from the structure or French drains to remove water in-case it goes into foundation.
Plinth protection with water proof plasters.
Plinth Beam with Lime to avoid water seepage into walls from foundation.
Recycled rubber tyre sheet before base layer of flooring to avoid water coming through foundation directly into the rooms.
This post is also available in: Tamil