10 Day Long Natural Building Workshop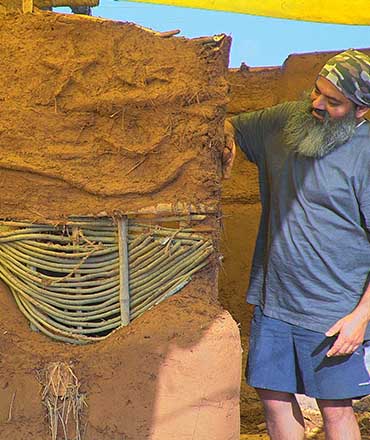 Overview
Thannal Natural Building School's half-yearly 10-day course is planned for people who want intense learning in natural materials, techniques and processes through hands-on work (1:1 scale) on our project. Every aspect of Natural Building from the foundation, wall systems, roofs, flooring & finishes is part of this course. Basics know-how of every ingredient used like different types of mud, lime, bamboo, herbal mixes and natural gums is explained. Participants are made familiar with how to identify different properties of the material, source it, prepare it and different techniques of using it. Various treatments for natural materials for termite resistance and how to repair mud structures are also covered.
Enhanced with Rural Study through site visits to indigenous & contemporary mud buildings. Inferences from such experiences can strengthen your confidence in building with Natural Materials.
Observe and learn from a wide range of experimentation done on our campus:
The Singing Dervish Studio, using cob.
Learning Center, using Cob, Adobe, Wattle & Daub.
Water tanks made with Mud and Lime.
Sensing Natural living.
Aspects of Natural Building explored:
Lime preparation and usage.
Different forms of stabilization and admixtures.
Treatments using native plant and animal derivatives.
Natural gums.
Greywater management using Natural filtration.
The course consists of
Theory sessions with lectures and audio-visual presentations.
Hands-on sessions (for better practical learning about Materials & Techniques).
Prototype sessions (artisan will explain through doing a sample).
Site Visits (to experience the existing Natural Buildings).
Question and Answer session.
Natural Building Techniques covered in the course:
Foundation using Earth-bag and Stone.
Cob, a thick monolithic wall using Mud and Fibers.
Wattle & Daub, bamboo is weaved and mud is applied on top. Flexible to take any shape given.
Adobe, Sun-Dried bricks of Mud and Fibers.
CSMB, compressed mud blocks using very little water.
Earth-bag as building units.
Beams and Lintels using Bamboo.
Natural Plasters using admixtures derived from plants and animals.
Flooring using Lime and Terracotta tiles.
Roofing using Thatch, Bamboo, Wood and Tiles.
Murals and Sculptures on Mud walls.
Course Details
Note: Each day is divided into four sessions, 10 days into 40 sessions, two before lunch and two after lunch. Schedule could vary according to site weather conditions.
S.No

Topic

Type

Sessions (Total 40)

1

Introduction to Natural Buildings

Theory

01

2

Procurement and Treatments

01

2.1

Mud- Testing & Sampling

Hands-On

2.2

Bamboo

Prototype

2.3

Herbal Mixes

Prototype​

2.4

Lime slaking and storing

Prototype​​

3

Foundation

02

3.1

Stone

Hands-On

3.2

Earth Bag

Prototype

3.3

Beam System using Bamboo

Prototype

4

Wall Systems

15

4.1

Cob

Hands-On

4.2

Adobe

Hands-On

4.3

Wattle and Daub

Hands-On

4.4

CSMB

Hands-On

4.5

Earth Bag

Prototype

5

Roofing Systems

01

5.1

Thatch

Theory

5.2

Living Roof

Theory

5.3

Flat Mud Roof

Theory

5.4

Tile Roof

Theory

6

Finishes

08

6.1

Cob Repair

Hands-On

6.2

Plasters (Lime, Mud, Mud + Lime.)

Hands-On

7

Flooring

02

7.1

Lime

Prototype

7.2

Tiles

Prototype

8

Interior

02

8.1

Furniture

Hands-On

8.2

Openings

Hands-On

8.3

Murals

Hands-On

8.4

Sculptures

9

Site Visits

02

9.1

Old Mud Dwellings

9.2

Own Projects
Presentation by Ar. Biju Bhaskar and Thannalites on the following topics:
Introduction to Natural Building.
Evolution of Natural Building in India.
Material Library.
Natural Gums, Herbs, Starch.
Natural Builders in India and around the globe.
Owner's Build and Low-cost Mud housing.
Thannal's completed and ongoing projects.
Revival of Traditional techniques.
Workshop Location:
Thannal campus, Tiruvannamalai, Tamilnadu
Travel:
Nearest Railway Stations: Tiruvannamalai, Katpadi and Villupuram.
Nearest Airport: Chennai, Bangalore.
Accommodation:
Accommodation is not available within Thannal Campus, so participants have to find and arrange a guest house for staying in Tiruvannamalai town. This expense is not included in the course fee. The daily commute to the campus (6 k.m. from Ramana Ashram, Tiruvannamalai) during workshop days also has to be arranged by participants.
Workshop fee:
The workshop fee is Rs. 30,500/-. To register you have to pay 50% of the fees and the remaining fee is to be paid on the workshop day (in cash only).
If you are coming for the workshop with your family, children between 10-16 years will be charged Rs. 15,250/- and children below 10 years can attend the workshop without any fee with their parents.
This fee includes lunch & refreshments during workshop days and excludes accommodation & site visit travel expenses.
We function in a manner in which all our studies, documentation, travels and research are funded with the money from workshops, Online courses not from any external funds, sponsorship or fellowships. Projects are done on gift culture, without any consultation fee, which are the results of our studies of Indian Traditional Natural Building techniques. We expect people who want to learn from us to understand this situation and kindly not ask for discounts on our study programmes. As we do not have any scholarships available right now, you can find a sponsor for yourself to study with us (you will be supporting us this way).
If you wish to sponsor any student for the course, kindly write to us. We have applicants waiting for sponsorship.

Prepare for the day:
Please see the below links for details of things to carry and other matters of concern.
Prepare for the workshop
Cancellation/Refund Policy:
We understand that circumstances may arise which prevent you from attending our hands-on workshop after booking a seat. However, kindly note that we have limited seats available and finding a replacement on short notice may be difficult.

If you want to cancel your booking, please inform the Thannal team at least 20 days before the workshop, and we will offer you the opportunity to attend one of our future workshops.

If you cancel your booking within 20 days of the workshop, we will provide you with the following options:
To participate in one of our future workshops within 20 days of cancellation, you will need to make an additional payment of INR 7,500 along with the balance payment of INR 15,250, bringing the total to INR 22,750/-. This additional payment is required to cover the cost of the vacant seat, as Thannal will lose a valuable participant if it remains unfilled. We appreciate your understanding in this matter.
Alternatively, you can opt for access to our online course packages for the amount paid as the booking fee for the workshop.
Please note that we do not provide refunds for cancellations. Instead, we offer you the two options mentioned above. We appreciate your cooperation in this matter. Thank you for choosing Thannal for your natural building education.

For queries: thannalroots<@>gmail.com
Note:
We welcome families taking part in the workshop together. Children below 10 years can attend the workshop for free with their parents. Children from 10-16 years of age have to pay 50% of the workshop fee.
We don't entertain non-participants at the workshop site during workshop hours unless it is unavoidable. Please let us know in advance if you want to invite your relatives or friends to campus during workshop days.
Do respect the privacy of others when you go visit any nearby sites.
This is exclusively a hand-on workshop so get ready to stretch and twist your muscles.
Do wear light comfortable cotton clothes, preferably old, to beat the heat. There are very few chances of your clothes not getting soiled.
The sun can be a bit harsh here so carry sunscreen and headgears.
Do keep yourself hydrated to avoid any discomforts. You can also carry Electoral & Glucose for that extra boost of energy.
Wear footwear that you can slip in and out of easily. Our Natural Cob Gym will need the use of your bare feet!
At times, working with hands can get a little rough; you can get a pair of work gloves along!
Please carry your emergency medicine if and when required.
Keep your cell phones away while working, this is a no-selfie zone. Video recording during the workshop is also prohibited, notes can be written down.
The itinerary is subject to change as per material availability, site conditions and local weather.
If tickets are filled, please write to us on Whatsapp or email thannalroots<@>gmail.com6
Completed Workshops
Over 50 +  hands-on training programmes were conducted and 1500+ people trained
This post is also available in: Tamil